Are you looking for a way to automate the Water Transfer Printing process? You've come to the right place. TWN Industries is world-renowned for its innovative automated equipment solutions. Our line of automatic activation units takes the human error out of activation. Our systems provide consistency, reliability, and execution when it matters most. Manufacturers all over the world use TWN spray systems to decorate their products.
Currently, we have two spray system types: an entry-level system that integrates directly with our 1.2-meter processing tank, and a larger production-level system that integrates seamlessly with our stainless-steel hydro dipping tanks. Need a custom activator spray system? We've got you covered. Our team will be happy to develop one to meet your unique requirements.
---
Entry-Level Automatic Spray Systems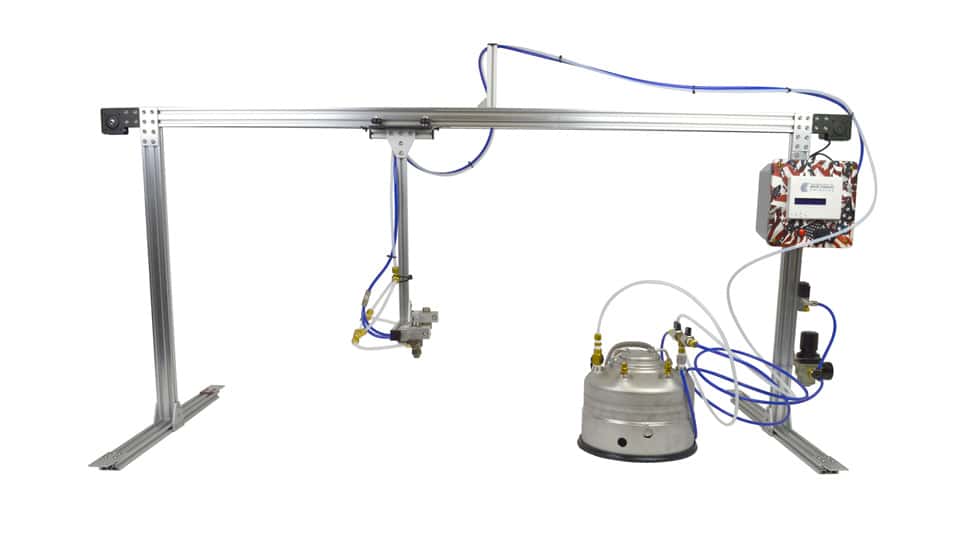 Looking to scale your small business? Our 1.2-meter activator spray system is the perfect solution for automating your processing workflow. This automatic push-to-activate™ system integrates seamlessly with our 1.2-meter tank. This is the only truly automated activation system that is affordable for any small business. It drastically reduces overspray, activator waste, and redo rates, and improves your overall quality and consistency.
1.2-Meter Activator System Features
Rigid stainless-steel frame design
Easy-to-use control box with pre-programmed PLC
2 professional-grade spray guns
Mounted pressure gauge
Portable pressure pot system
Push-to-purge™ – clear activator lines with the push of a button.
Push-to-activate™ – trigger activation with the push of a button.
Made in the USA
Check Out Our 1.2-Meter Spray System in Action!