Do you want to start a hydrographics business but don't know where to begin? Start with TWN's professional hydrographics training course. Our 2-day certification program will guide you through the complete Water Transfer Printing process from start to finish. Learn industry best practices and some tricks we've learned through our many years of experience.
The Water Transfer Printing Experts
TWN has been pioneering the Water Transfer Printing process for over 20 years. We have an incredible amount of knowledge and insights that we can share with you. In addition, our marketing program will help you gain a competitive advantage in your local market as well as abroad.
We don't put a price on knowledge and therefore don't have multiple tiers of training. We want everyone that trains with us to leave with the knowledge and toolset needed to be successful within the Water Transfer Printing industry.
Very pleased with our training experience! Everyone was extremely helpful and professional. They gave us an incredible amount of knowledge. Louis, Joe, Mike, and the rest of the team were amazing teachers and explained everything we needed to know. 10/10 recommend this team and facility!
Mike H.
Attended Training – January 2023
Sign Up For Hydrographics Training
---
About TWN's Hydrographics Training Course
Over the past 20 years, TWN has helped countless manufacturers, small businesses, and individuals learn the Water Transfer Printing process. We are the primary source of knowledge for this amazing decorating process. Here's why TWN's training program will provide the best experience and competitive advantage for your company.
Longest-Running Hydrographics Training Program
TWN's training program is the first and original Water Transfer Training program. We have pioneered this decorating industry for over 20 years and have certified over 1,400 companies.
Highest-Rated Hydrographics Training Program
Also, our training program is the highest-rated hydrographics training course in the world. We have put an extensive amount of effort into delivering a world-class experience at our facility in Miami, FL.
Immersive Learning Experience
Be ready to get your hands dirty! Our training is all hands-on. Our trainer has been working for TWN for over 15 years. Additionally, our training lab is specifically designed for our training curriculum.
Small Class Sizes
Small class sizes of diverse people offer a better learning experience compared to 1-on-1 training. Each person brings unique experiences and viewpoints. For this reason, we keep our class sizes under 6 people.
---
Hydrographics Training Curriculum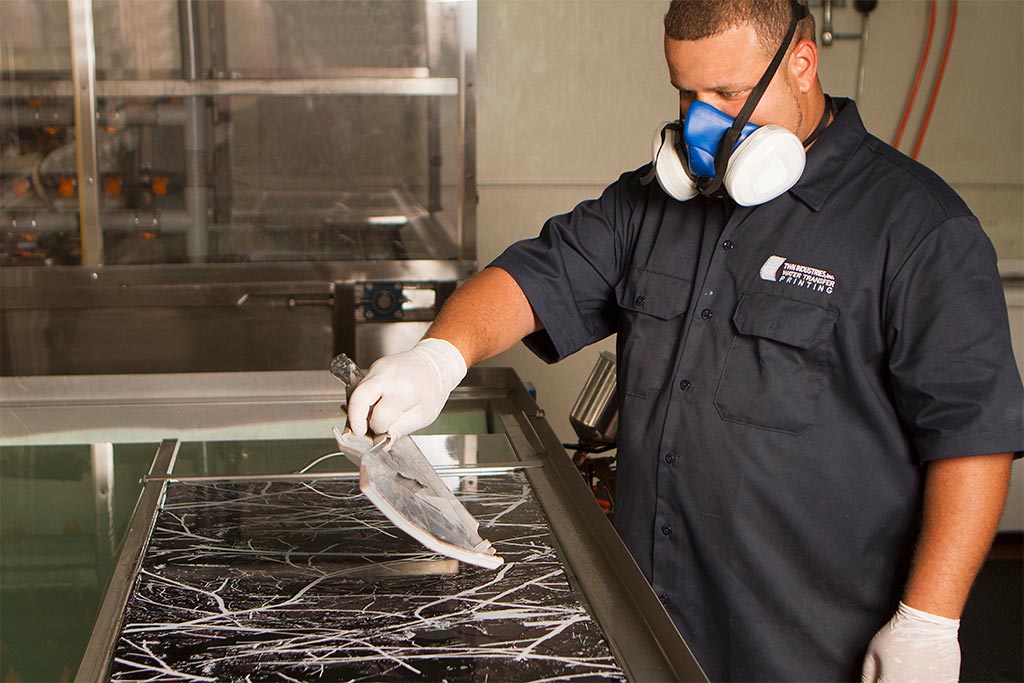 TWN's Water Transfer Printing training course is a completely hands-on experience for all experience levels. We show you how to do every step of the process so you can start producing parts as soon as you return to your shop.
1. Prep
Prepping your part correctly will promote optimal adhesion and create a long-lasting bond. This is where you clean, scuff, sand, and/or flame treat your part.
2. Mixing
During the course, we will walk you through how to mix and apply each primer, paint, and clear coat. After we show you how to do it, you will mix the chemicals yourself!
3. Priming & Painting
There is a lot of painting involved in the hydrographics process. We will teach you how to paint and primer your parts from start to finish.
4. Activation
Also, during TWN's hydrographics training, we will walk you through how to apply activator correctly and consistently. You will practice spraying activator countless times during our 2-day training.
5. Dipping
Now the fun part! We have over 30 different types of parts for you to dip during our training course. Dipping is the "meat and potatoes" of the training course.
6. Washing
Washing the residual PVA off of your part completely will ensure maximum adhesion with your clear coat. We will show you how to wash parts easily and effectively.
7. Clear Coat
Next, we head back to the paint booth where we show you how to clear coat parts. You will learn how to clear coat with high gloss, flat, and specialty clears like candies.
8. Advanced Troubleshooting
Finally, TWN's hydrographics training will teach you how to diagnose decorating flaws. Did you apply too much activator? Did you apply too little? We will teach you what to look out for and how to fix it.
---
Why Attend Our Hydro Dipping Training?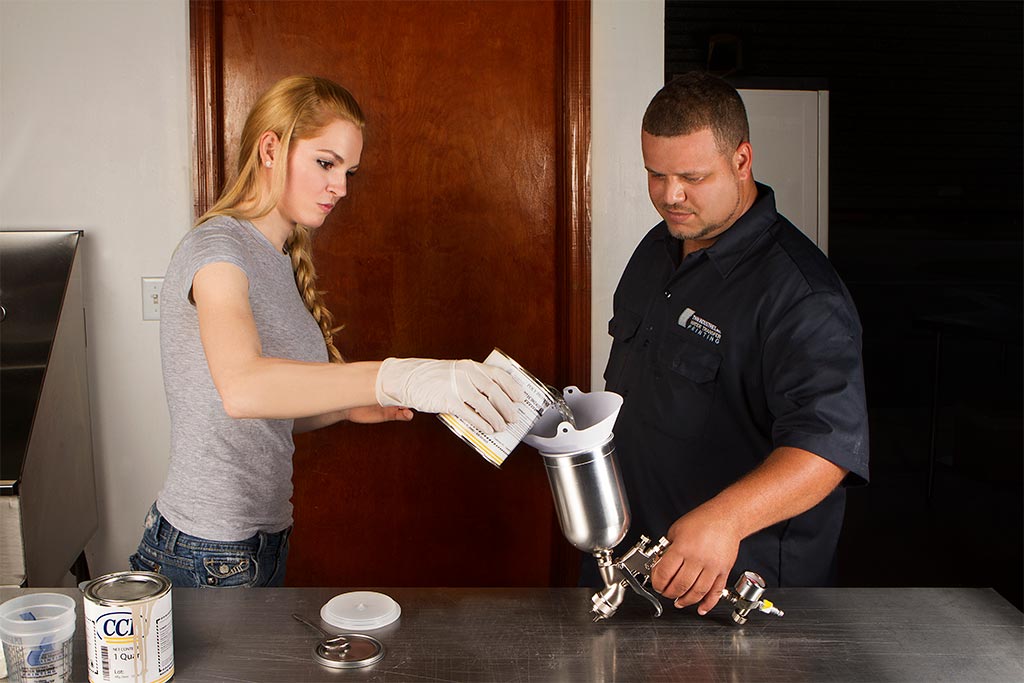 TWN is the only Water Transfer Printing supplier that has a no-processing policy. Although we process sample parts daily, we do not offer for-pay decorating services to the public. This allows us to be a true support system for your business and allows us to send decorating inquiries to our TWN Certified Processors around the country.
---
The Most Reputable Hydrographics Training Program
TWN's mission is to improve the proficiency of Water Transfer Printing processors through our hydro dipping training and certification program. This enables you to grow your business by providing a higher-quality product. Our TWN Certified logo also serves as a seal of approval and is recognized as the highest quality standard throughout the industry. This can help you gain customers who are looking for a proven and reputable company to provide Water Transfer Printing services.
If you're hesitant about purchasing a tank here, don't be. From start to finish, every person in this facility has been more than helpful. Our sales rep, Joe Estrada, was diligent in answering my questions and was helpful with scheduling. Louis, who does the hands-on training, was knowledgeable and patient.

Louis answered questions multiple times and never once seemed annoyed. They have an excellent marketing strategy and even help you in this area. We left training feeling confident about taking what we learned and putting it into action.
Angel S.
Attended Training – February 2023
Choose Your Hydro Dip Tank (Training is Free w/ Purchase)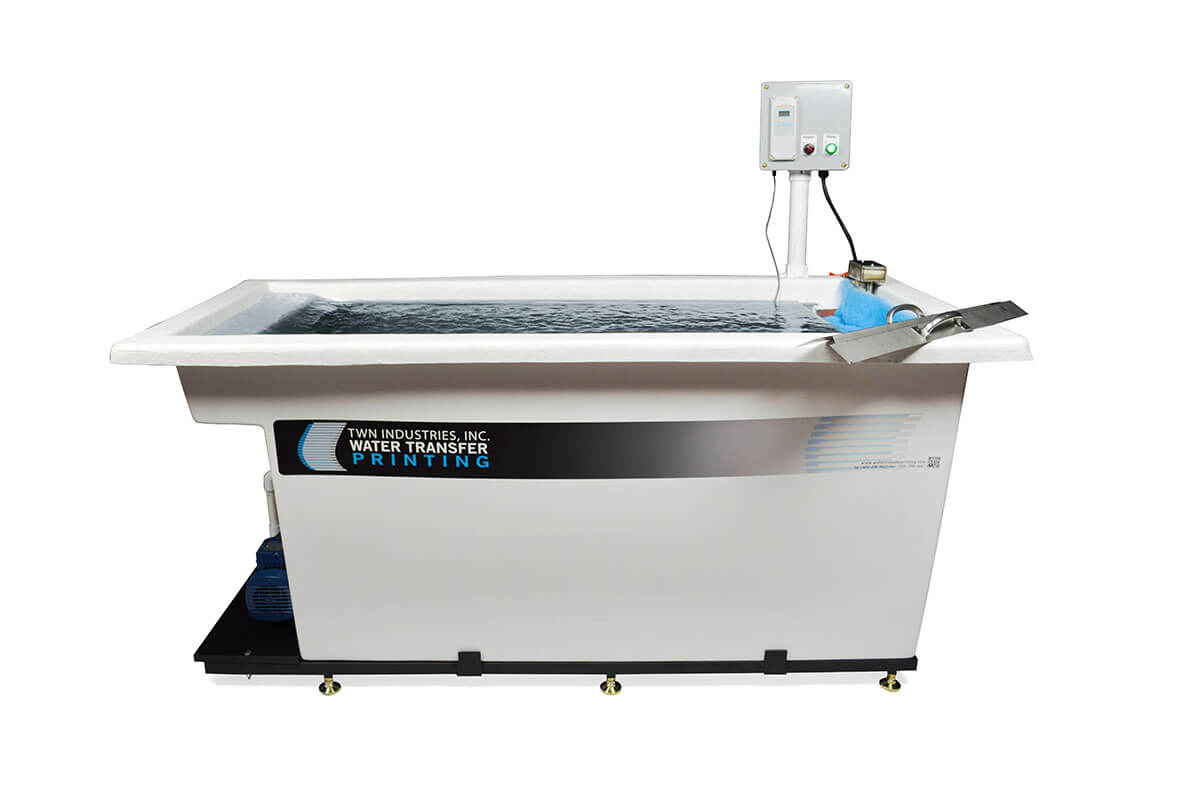 1.2M Hydro Dip Tank (Entry-Level)
Starting at $3,495
Our 1.2-meter hydrographics tank is our entry-level system. This system is perfect for dipping small car parts, deer skulls, rifle stocks, hard hats, rims up to 20″, and more.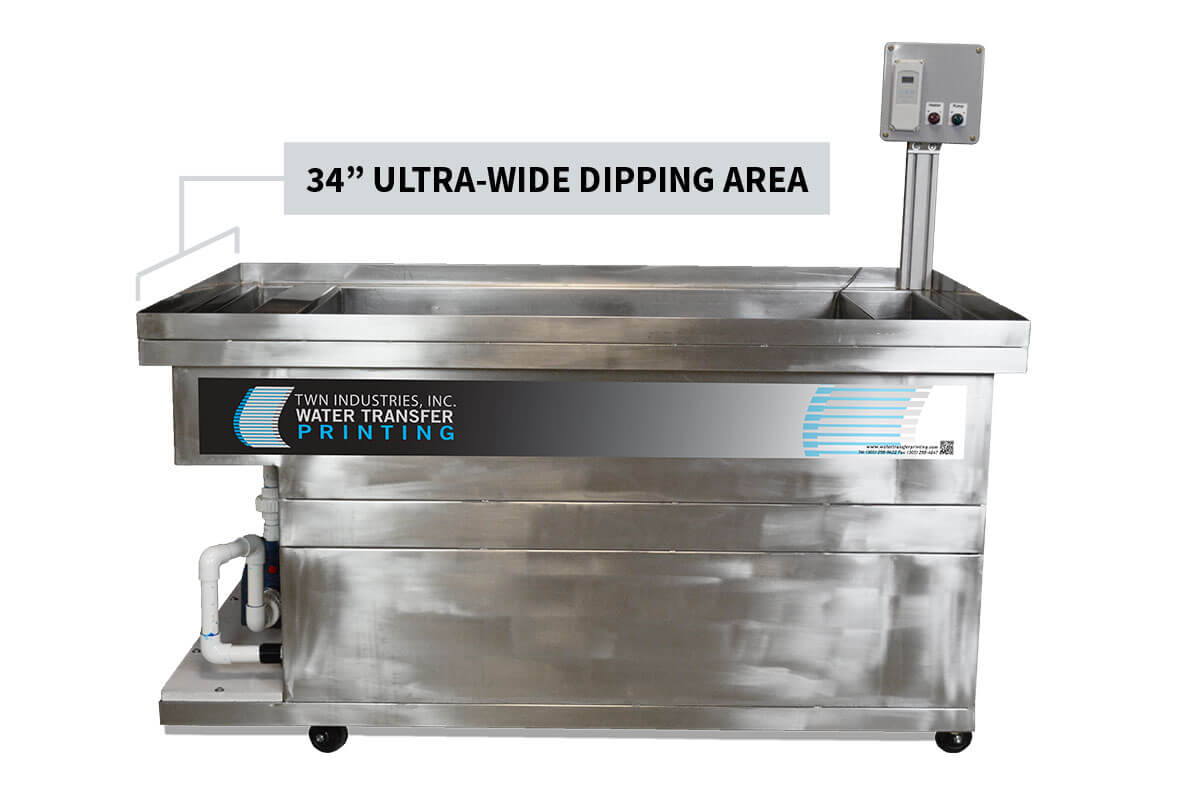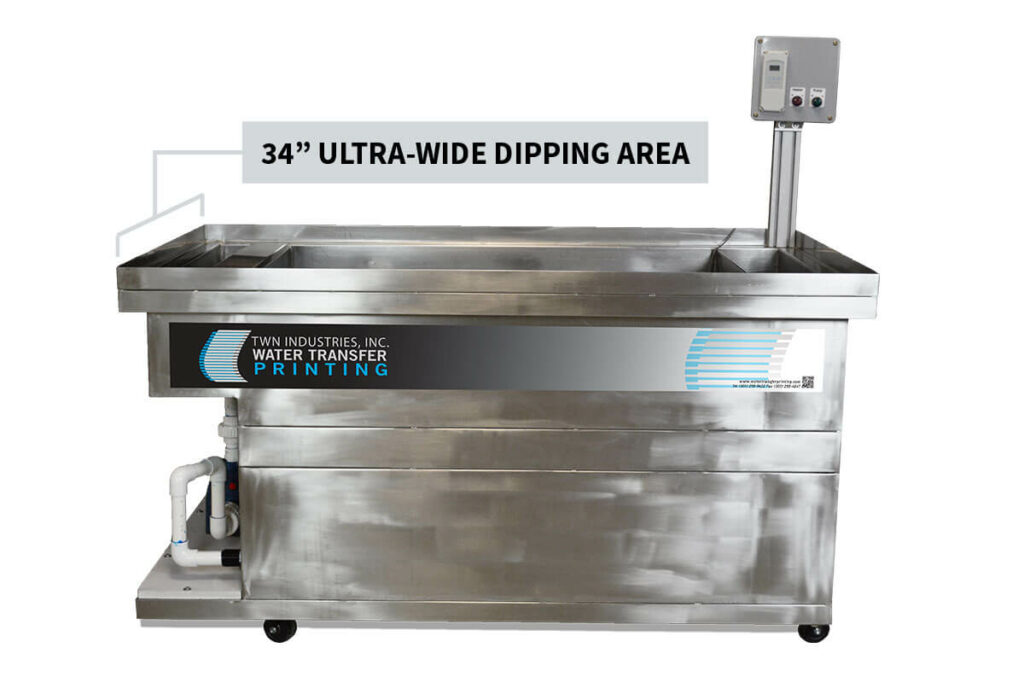 XL 1.2M Hydro Dip Tank (Professional)
Starting at $4,995
Our XL 1.2-meter hydrographics tank is our professional-level system. This system features a 34″ ultra-wide dipping area that allows you to dip rims up to 30″, engine covers, motorcycle tanks, and more.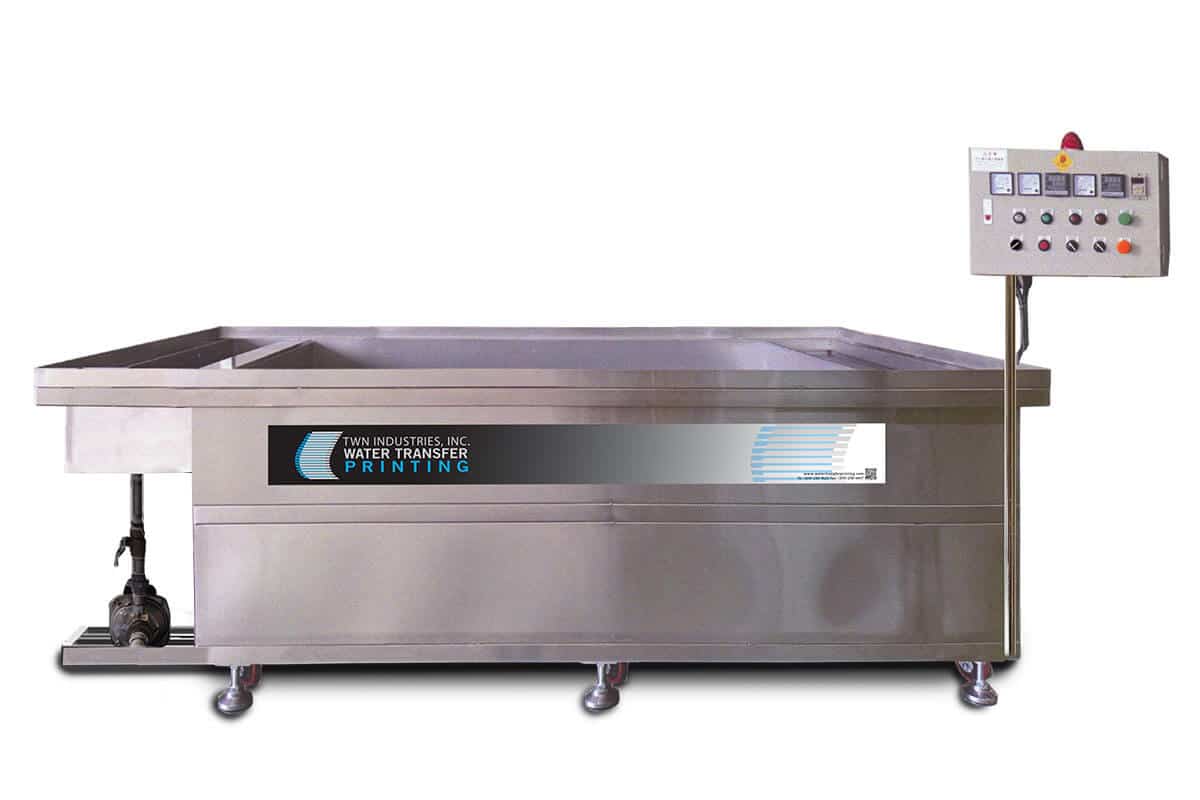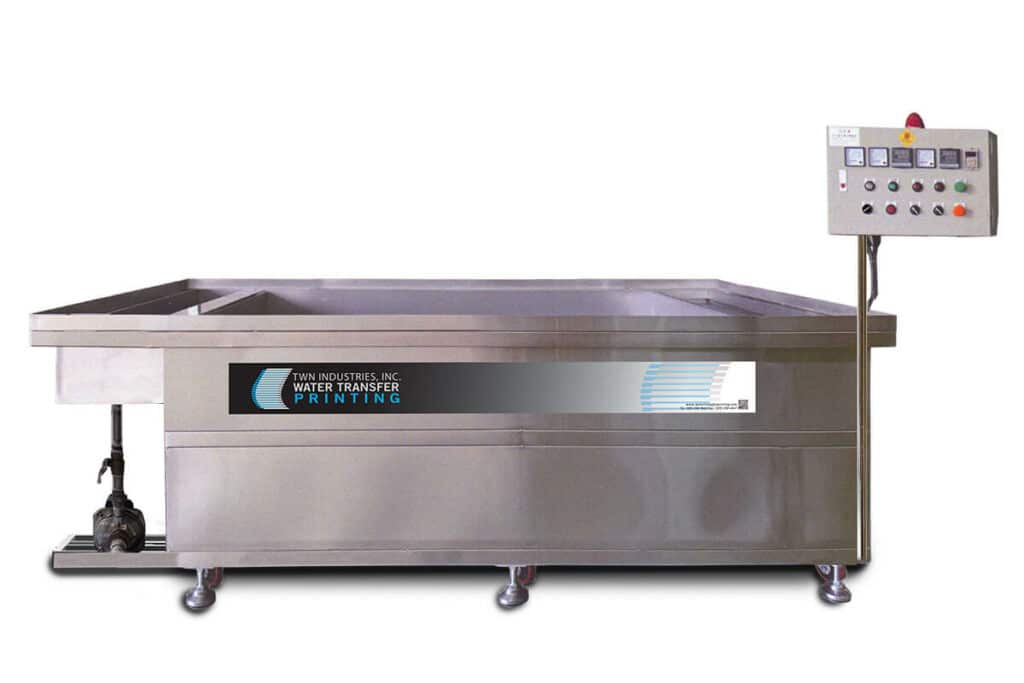 Production-Level Hydro Dip Tanks
Starting at $9,999
We have a wide selection of production-level tanks and automated systems designed for high-volume production. More manufacturers trust TWN for equipment than anyone else in the industry.
---
Superior Knowledge Base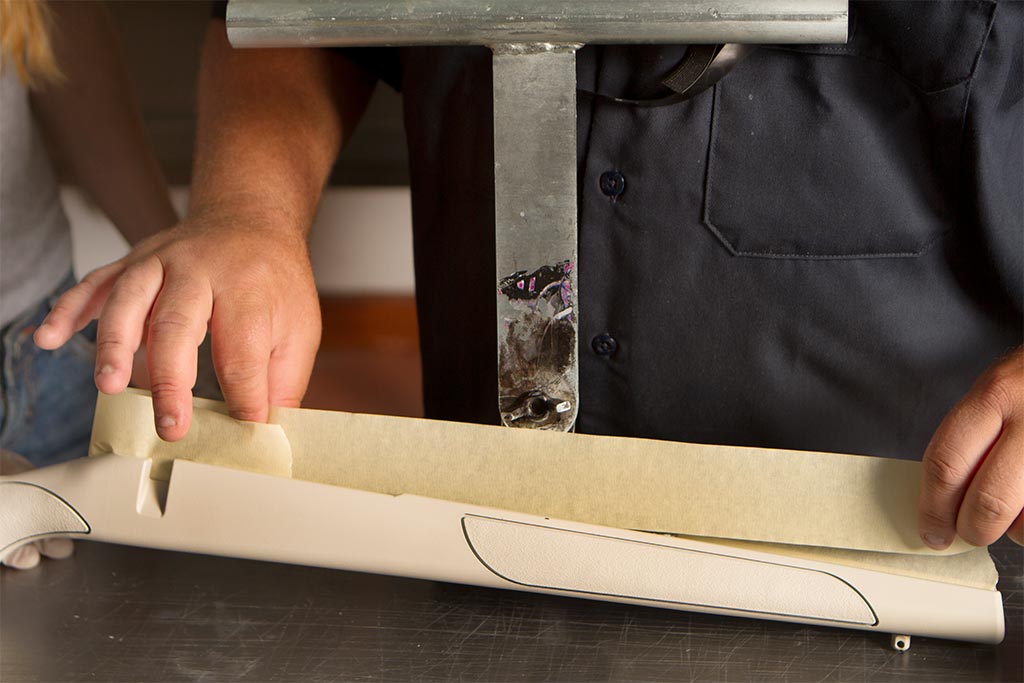 At TWN, we have put together a team of professionals that understand and have worked in the automotive, marine, aviation, and sporting goods markets. Combined, these professionals have over 100 years of experience in these markets. With this experience, we can guide you in pattern selection and recommend the hottest new patterns for your products based on current market trends.
We have extensive knowledge of the Water Transfer Printing process. Therefore, if you are having trouble with any aspect of the process, we can diagnose the issue and provide a solution. We can help you solve technical problems like spotting and fading in a production or small-scale environment.
---
Phone Support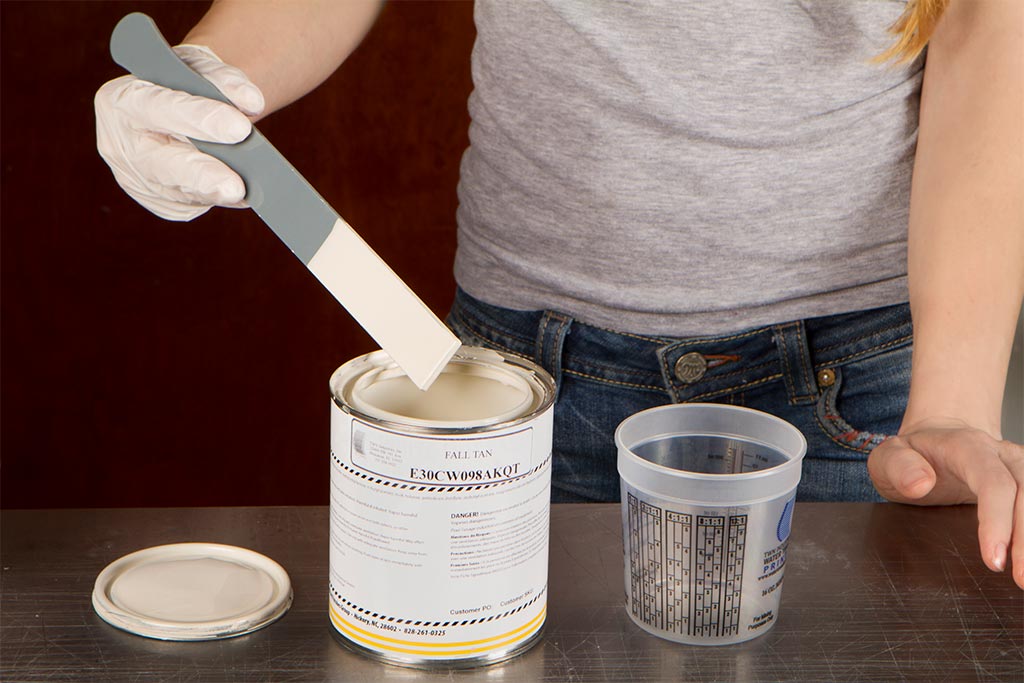 Our sales & technical support team has completed our TWN Certified hydrographics training program. They can provide troubleshooting information, new pattern releases, and take your order. Our sales & technical support team is available Monday-Friday from 8:30 am to 6:00 pm EST. If they do not have a solution, they have full access to our lab personnel for expert help.
Did you under-activate your film, leave the film on the water too long, is your water too cold, or was your film stored improperly? Our 2-day hydrographics training course dives deep into these issues and gives you a solid foundation to fix and prevent these complications within your process workflow. This allows you to optimize your parameters, produce a superior product, and outpace your competition.
---
What our Customers Say
Our experience with the TWN Industries class was beyond amazing. I am walking away with the help and support that will allow our company to grow. I was so impressed with their customer service, training & facility.
Jaimie & Tim
Attended TWN Certified Training
---
We developed our hydrographics training program with you in mind. No matter your skillset or experience, we have crafted a comprehensive curriculum designed to teach you the entire Water Transfer Printing process. Schedule your training today!
Sign Up For Hydrographics Training
---
Not Ready for Hydrographics Training?
Not ready to pull the trigger yet? Don't worry! We have an incredibly thorough and comprehensive guide about the hydro dipping process. It includes topics like the materials you will need, the equipment, the work area, and so much more. Check out our guide called Hydro Dipping: The Ultimate Guide to learn more.