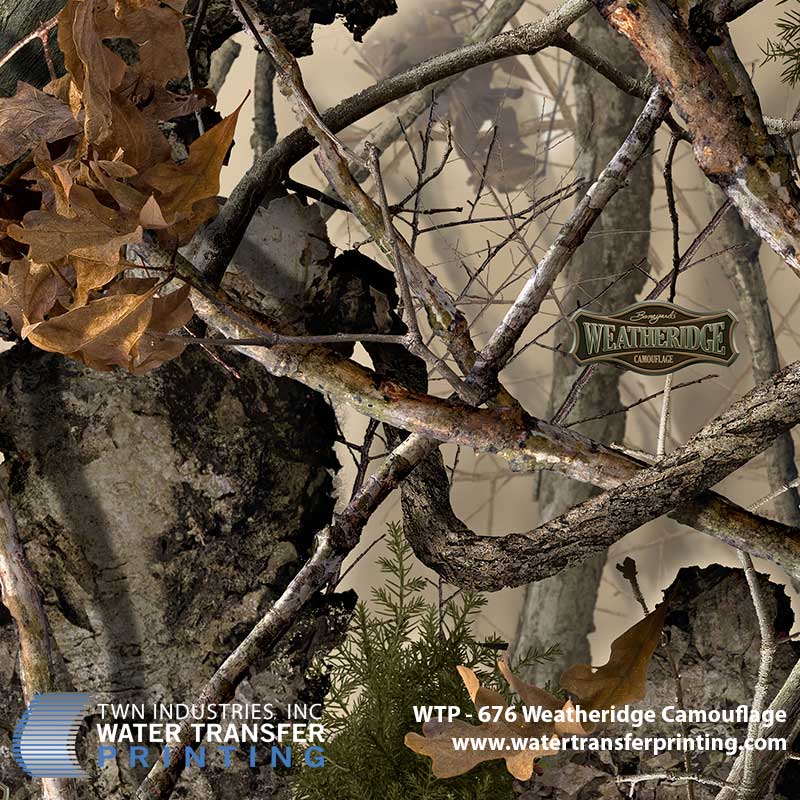 PRINCETON, FL – January 15, 2012 – TWN Industries Inc., the leading Water Transfer Printing supplier, is proud to announce the release of Boneyard Camo's Weatheridge Camouflage. Weatheridge Camouflage is a new and exciting hunting camouflage from the same design team that brought you one of our top selling patterns, Legend Blaze Camo.
Boneyard Camo, known for their creative designer patterns, is proud to introduce Weatheridge Camouflage. Weatheridge Camouflage is from Boneyard Camo's Ridge Series hunting patterns and has proven itself in the field with the use of a unique CT element (Confusion Technology™). This concept helps break up the contours of the human shape while displaying a weathered and grungy bark texture that blends in with virtually any wooded or rocky environment. Weatheridge Camouflage was created with the same Super High-Resolution graphics and superb detail found in Boneyard's designer patterns with an even larger repeat area. "We have been field-testing Weatheridge Camouflage for deer and turkey for three seasons now and are absolutely ecstatic about the results we are getting afield. We truly believe that it's a combination of the CT element and the grungy, weathered textures that really makes this pattern so effective." said Boneyard Camo Owner, Scott Boerner.
Boneyard Weatheridge Water Transfer Printing Film
More Boneyard Camo™ Water Transfer Printing Films
Weatheridge Camouflage water transfer printing film is available exclusively through TWN Industries, Inc. Three meter accessory packs are available immediately. The part number for Weatheridge Camouflage is WTP-676. To find a TWN Certified Decorator to decorate products for you or to purchase film call 305-258-9622.