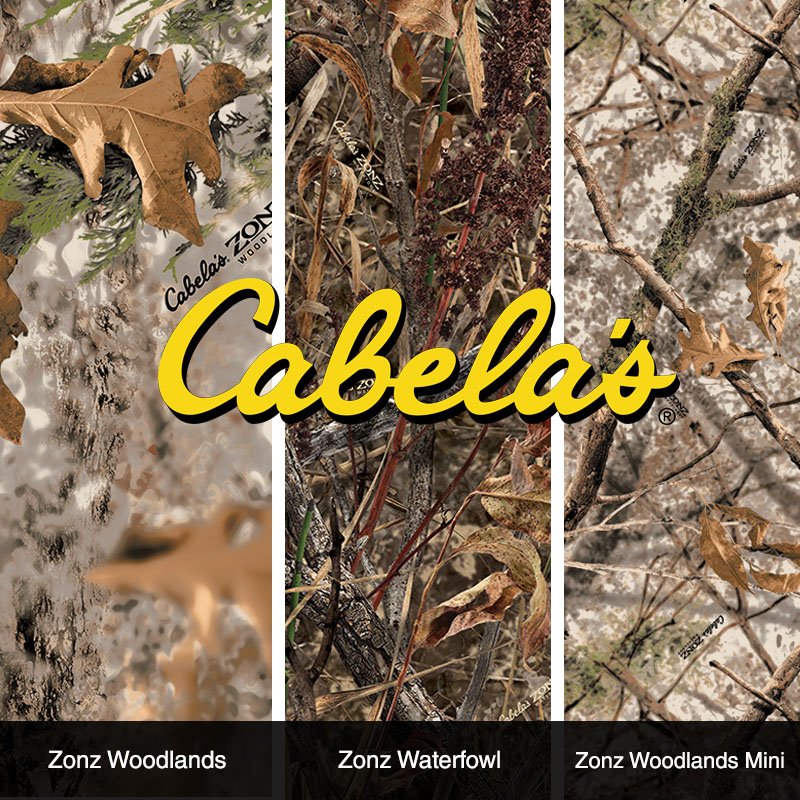 PRINCETON, FL – May 5, 2015 – TWN Industries Inc., the leading water transfer printing supplier, announces the release of Cabela's three new camouflage hydrographic film patterns: Cabela's Zonz™ Woodlands, Cabela's Zonz™ Waterfowl and Cabela's Zonz™ Woodlands Mini. The new hydro dipping patterns are printed using an innovative new wide-format technology that enables them to incorporate three distinct "zones." With natural transitions from one zone to another, Zonz camo blends more effectively with variations in terrain and vegetation. Cabela's Zonz™ incorporates a photorealistic macro pattern and a digital micro texture background. This ground-breaking combination gives Zonz unparalleled depth and realism at close range and long distance.
Cabela's Water Transfer Printing Films
TWN Industries is the official supplier of Zonz™ film to manufacturers who currently work with Cabela's. This film is available only to projects sanctioned by Cabela's and one of their authorized buyers. Sample parts may be submitted to TWN Industries for processing and visual presentation to Cabela's by contacting. Mike Richards or Jeff Graham at 305.258.9622.
About Cabela's Incorporated
Cabela's Incorporated, headquartered in Sidney, Nebraska, is a leading specialty retailer, and the world's largest direct marketer, of hunting, fishing, camping and related outdoor merchandise. Since the Company's founding in 1961, Cabela's® has grown to become one of the most well-known outdoor recreation brands in the world, and has long been recognized as the World's Foremost Outfitter®. Through Cabela's growing number of retail stores and its well-established direct business, it offers a wide and distinctive selection of high-quality outdoor products at competitive prices while providing superior customer service. Cabela's also issues the Cabela's CLUB® Visa credit card, which serves as its primary customer loyalty rewards program. Cabela's stock is traded on the New York Stock Exchange under the symbol "CAB". For more information, visit https://www.cabelas.com/zonz