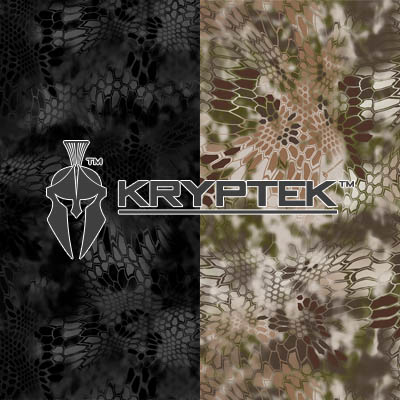 PRINCETON, FL – August 16, 2013 – TWN Industries Inc., the leading water transfer printing supplier, announces scaled-down versions of two very popular film patterns. Kryptek's Highlander™ and Typhon™ patterns have been scaled down to 25 percent versions of their original pattern size. This reduction in size allows for the processing of smaller parts, while ensuring the films' details are not compromised.
And just like their full-scale counterparts, these patterns continue to utilize their transitional shading and random geometrical foregrounds, making them equally as effective. The new sizes also incorporate visual deception based on the mimicry of foliage, animal, marine and geographic visual qualities. These key characteristics play an integral part in the success of the product.
"Whether you're processing sunglasses, cell phone covers or even pens, these scaled-down renditions are going to maintain the integrity of the patterns' design. That's going to make your processed parts stand out from the competition," stated Jerry Metallo of TWN Industries.
The scaled-down versions of Highlander™ and Typhon™ water transfer printing film are available exclusively through TWN Industries, Inc. Three-meter accessory packs and production quantity film is available immediately. The part numbers are as follows: WTP-736 Kryptek Highlander™ Reduced and WTP-737 Typhon™ Reduced. To find a TWN Certified Decorator who can decorate products for you, or to purchase film, call 305-258-9622.
Kryptek Highlander™ Reduced Hydrographic Film
Designed for varied geographical regions and elevations, Kryptek Highlander™ increases stealth when pursuing a wide range of quarry in mixed terrain.

Kryptek Typhon™ Reduced Hydrographic Film
Darkness is the ally of the predator that prowls at night. Kryptek Typhon serves those who operate when and where others will not venture.

More Kryptek® Hydrographic Films
About Kryptek™
"When Shadows Are Not Enough" Kryptek camo patterns provide a tactical advantage to the Operator by reducing visual acquisition through the combination of proven camouflage concepts, scientific principles and field testing. The Kryptek designs incorporate proven principles of visual deception based on mimicry of foliage, animal, marine and geographic visual qualities. These principles have been combined with evolutionary concepts and fused with state of the art technology to offer the utmost in effective concealment in differing environments. In January of 2012 Kryptek patterns were selected as a finalist for US Army Camouflage Improvement Program. For more information visit www.kryptek.com.