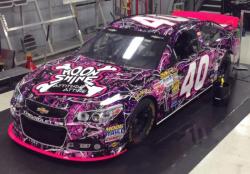 PRINCETON, FL October 8, 2013 – TWN Industries Inc., the leading water transfer printing supplier, proudly announces the use of Moon Shine's pattern, Muddy Girl, by Hillman Racing. Tony Raines' Chevrolet SS wore the iconic pink pattern in last weekend's "Hollywood Casino 400" NASCAR race in Kansas City, Kansas. The Muddy Girl pattern was tremendously special for this event, being that October is "National Breast Cancer Awareness Month".
"A great pattern for a great cause; It doesn't get any better than that," stated Jerry Metallo, of TWN Industries.
Read Moonshine's full press release:
BEAVERTOWN, PA – Hillman Racing announced that Moon Shine, LP, a premium designer of Moon Shine Attitude Attire™, kicked off the first race of a two-race NASCAR Sprint Cup Series sponsorship last weekend at Kansas Speedway by turning the No. 40 Chevrolet SS pink for National Breast Cancer Awareness Month with its Muddy Girl-branded camouflage pattern.
From now through October 31, Moon Shine Attitude Attire will donate one dollar from the sale of every Muddy Girl shirt and hoodie sold trackside to The Breast Cancer Research Foundation, an independent 501 (c) (3) not-for-profit organization whose mission is to achieve prevention and a cure for breast cancer in our lifetime by providing critical funding for innovative clinical and translational research at leading medical centers worldwide, and increasing public awareness about good breast health.
"We were proud to have our Wildfire Camo featured on Hillman Racing's Sprint Cup cars in the past, but are now honored to showcase our Muddy Girl Camo in recognition of Breast Cancer Awareness Month," stated Moon Shine LP president Travis Mattern. "We appreciate the opportunity to support a great cause through our continued partnership with Hillman Racing."
Muddy Girl® Water Transfer Printing Films
Tony Raines piloted the No. 40 Moon Shine Attitude Attire Chevrolet in Sunday's Hollywood Casino 400, with Landon Cassill scheduled to drive the No. 40 the following week in the Bank of America 500 at Charlotte Motor Speedway. "It's not often that you can use the entire race vehicle to bring awareness to such a deserving cause, but Moon Shine Attitude Attire approached us with an opportunity to use their Muddy Girl camouflage pattern as the backdrop for the car," said Hillman Racing team owner Mike Hillman. "The NASCAR community always pulls together in October to draw attention to Breast Cancer Awareness Month and this car will definitely be noticed and connect with the NASCAR fans."
About Moon Shine, LP
Moon Shine, LP is a cutting edge designer of quality brand name apparel that conveys the attitude and traditional values of every generation. From the hunters and farmers who live off our lands to the soldiers and patriots who protect it, Moon Shine Attitude Attire® honors the essence of the American Legacy. For more information, visit Moon Shine Camo or call 1.800.4.MOON.SHINE (800-466-6674).