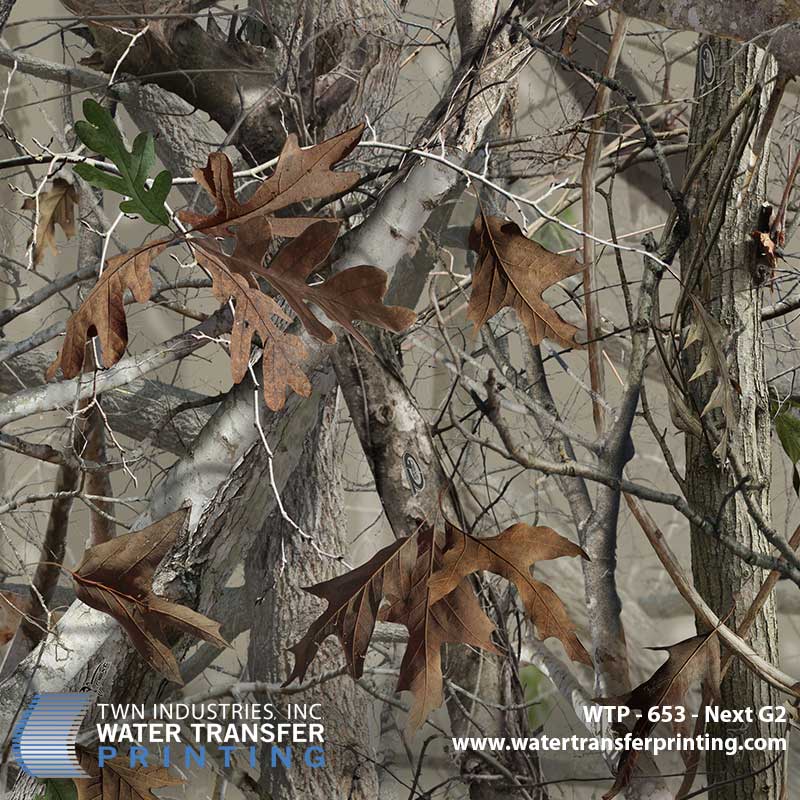 PRINCETON, FL – October 30, 2012 – TWN Industries Inc., The leading Water Transfer Printing supplier, announces the release of Next G2 water transfer printing film. The new pattern introduces the widest format traditional leaf and limb pattern on the market and has been created by Next Camo.
"New Next G2 incorporates many of the best features of our original G-1 pattern and improves on them in variety of ways. Many of the vertical elements have been replaced with a perfectly balanced mix of non-directional elements to make the pattern even more functional in a wide range of terrain. The pattern has been broken into distinct light and dark zones to better break the outline when it is cut up onto an ATV or other automotive products.
Next Camo™ G2 Water Transfer Printing Film
The forced perspective has been enhanced and detailed to create an even greater depth perception within the pattern. The SUPER-WIDE repeat format, pioneered by TWN makes G2 the ultimate solution for larger scale items like ground blinds and vehicle graphics, where too much repeatability can often-times present problems." stated Phil Duke, Next Camo's premier designer.
Smaller items where reduced versions of the G2 pattern are used, such as ATV body panels, bows and firearms, the large repeat also presents a more fluid appearance with far less repetition than any other pattern on the market.
More Next Camo™ Water Transfer Printing Films