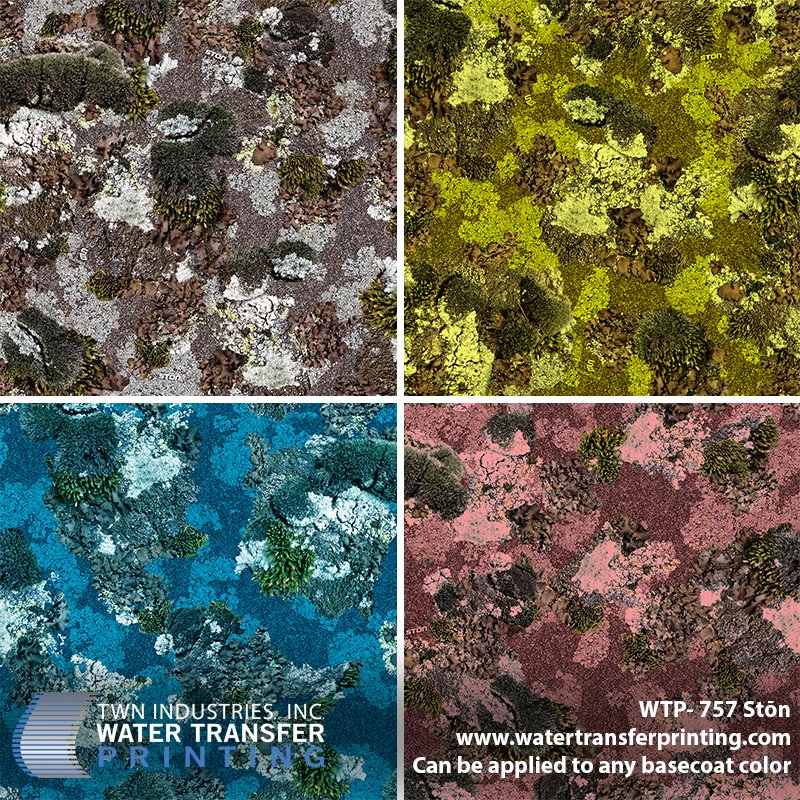 PRINCETON, FL January 21, 2015 – TWN Industries Inc., the leading water transfer printing supplier, announces the arrival of a white-backed variant of Stōn Camo's popular premiere pattern. The new film allows decorators to achieve a wide variety of color and design effects by simply changing the base coat color. Stōn Camo's new film features selective backing of elements with white, allowing the base coat color and film to merge in new and unique visual combinations.
In additional to the traditional version of Stōn, a wide range of combinations are easily created in both natural terrain and brighter colors. Basecoats suggested by Stōn Camo help optimize the pattern for natural colors like 'Sage', 'Slate' and 'Blackout', and bright colors like 'Kinkypink' and 'Cobalt'.
"Decorators and customers alike will be pleased with the variety of color options Stōn's white-backed pattern brings to the table," stated Mike Richards, Director of Business Development at TWN Industries. "Decorators can now stock a single version of the Stōn pattern and achieve endless effects, offering customers the perfect creative touch to their product."
Stōn Camo Water Transfer Printing Film
Stōn Camo water transfer printing film is available exclusively through TWN Industries, Inc. Call now to pre-order your film. Part number for Stōn (White-backing) is WTP-757. To find a TWN Certified Decorator who can decorate products for you or to purchase film, call 305-258-9622.
About Stōn Camo – Concealment Everywhere™
The Stōn™ camouflage line was developed as a solution for applications that span differing seasonal habitats, geography and terrain. Stōn is independent of the changing colors of foliage for concealment, taking its color and texture from a source common to all terrains — naturally occurring color and surface qualities found in boulders, rocks and surrounding ground cover.
Natural layering of elements delivers a realistic representation of both depth and contrast in the pattern, providing maximum concealment at a distance and at close range. Whether concealed in the shadows or beneath harsh sunlight, naturally-found variations of light and dark enable the pattern to blend well with its surroundings. Stōn camo also benefits from a larger overall imprint — this larger tiling virtually eliminates repeating patterns and allows for a more natural appearance.
For more information, visit https://stoncamo.com