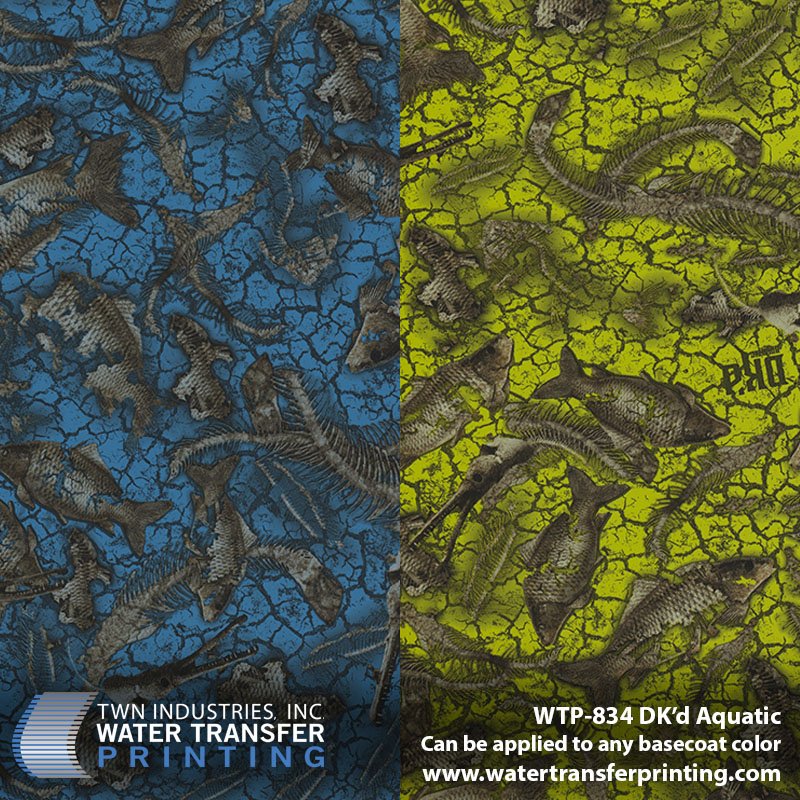 PRINCETON, FL – August 5, 2015 – TWN Industries Inc., the leading Water Transfer Printing supplier, announces the release of DK'd Aquatic™, the first pattern in a new series by Boneyard Camo. The pattern, pronounced Decayed, is made up of spiny fish skeletons artfully scattered across a dry, cracked riverbed. The initial impression one gets from this pattern is that it's akin to an ancient fossilized discovery found in an archeological dig. It's that distinct look that helps this hydro dipping pattern stand out from the crowd.
Additionally, the fish are shown at different stages of decomposition, which makes for an even more intricate and stylized look. And since DK'd was also made to be used with multiple base coat colors, the pattern is extremely versatile to work with. DK'd is a natural fit for aquatic-themed products, but it would be just as comfortable and impressive on items such as ATV's, gunstocks, motorcycles, coolers, and cell phone covers —the user's imagination is the only real limitation.
DK'd Aquatic water transfer printing film is available exclusively through TWN Industries, Inc. Call now to place your order and film requirement. The part number for DK'd Aquatic is WTP-834.
To purchase film, or to find a TWN Certified Decorator who can decorate products for you, call 305-258-9622.
Dk'd Aquatic Water Transfer Printing Film
More Boneyard Camo Water Transfer Printing Films
About Boneyard Camouflage
Boneyard is a company that specializes in designer (lifestyle) camo patterns and has been in business since 2009. They continue to pioneer new exciting patterns created for those with a passion for hunting, fishing and the outdoors. For more information, email contact@boneyarddesign.com