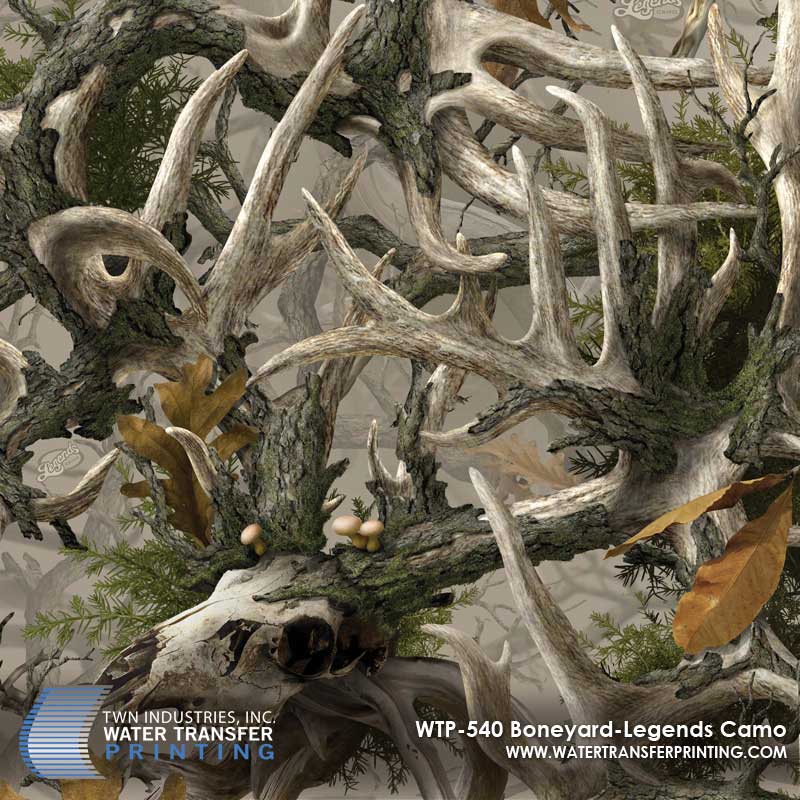 Princeton, Florida – August 23, 2011 – TWN Industries, Inc., the top water transfer printing film developer, is excited for the release of the new Boneyard Legends™ Camo water transfer printing film. Boneyard Legends™ Camo consists of massive whitetail bucks, as an alternative to the more common stick and leave camouflages. Created for hunters and outdoorsmen, Boneyard Legends™ is a designer camouflage that can be used in everyday life and could function as concealment while outdoors.
"Our new Legends™ Camo pattern is very special to us and it was extremely important that we have a professional and integrated company, such as TWN, represent us in a way that would harness the integrity of the pattern at the highest level." stated Scott Boerner owner of Boneyard Camouflage.
TWN continues to grow on their pattern selection and will have the Boneyards Legends™ Camo film available for shipment on September 1st. Contact TWN for more information.
Boneyard Legends Water Transfer Printing Film
More Boneyard Camo™ Hydrographic Films
About Boneyard Camouflage
Boneyard Camouflage was established in 2009 by creator Scott Boerner. Boneyard Camouflage offers unique camouflage images designed specifically for whitetail fanatics who live and breathe the hunting lifestyle. For more information email contact@boneyarddesign.com