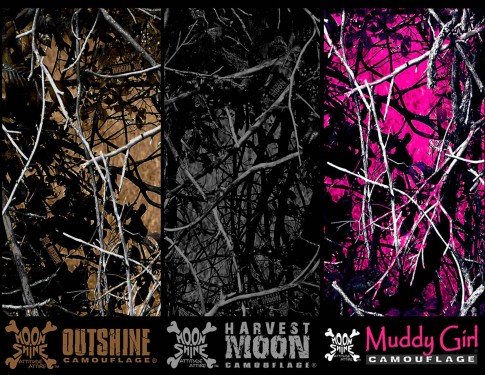 PRINCETON, FL. – August 9, 2011 – TWN Industries, Inc., a leading water transfer printing equipment and film supplier, announces a new partnership with Moon Shine, LP, a premium designer of casual wear clothing for the outdoor enthusiast. TWN Industries will be the exclusive provider of water transfer printing (hydrographic) film for Moon Shine's Attitude Attire™ collection, including the new and wildly popular Muddy Girl™ Camouflage pattern.
"TWN is excited to partner with Moon Shine," stated Mike Richards, Director of Business Development for TWN Industries.  "Our manufacturing partners are always looking for something new, and we see the Moon Shine patterns filling that need.  They have some fresh, edgy patterns that speak to the next generation of hunting enthusiasts.  We have already had considerable interest in their patterns, especially the new Muddy Girl™ Camouflage pattern."
"We spent a lot of time both researching and exploring the many hydrographic film printing facilities across the country and are pleased to have found one of the world's best camouflage film printers," stated Moon Shine, LP General Manager John Hummel. "TWN Industries will make a great fit for printing Moon Shine's forward-thinking line of patterns."
TWN Industries will be supplying hydrographic printing facilities worldwide with all three of the Moon Shine patterns.  Muddy Girl™ film is available for shipment starting August 8th and Outshine Camouflage® and Harvest Moon Camouflage® will be available September 1st. Contact TWN Industries to reserve film or to have your product sampled in a Moon Shine pattern.
Moon Shine Camo® Water Transfer Printing Films
View the full lineup of  Moon Shine Camo® Water Transfer Printing Films.
About Moon Shine Camo®
Moon Shine Camo® is a cutting edge designer of quality brand name apparel that conveys the attitude and traditional values of every generation. From the hunters and farmers who live off our lands to the soldiers and patriots who protect it, Moon Shine Attitude Attire™ honors the essence of the American Legacy. For more information visit Moon Shine Camo®, or call 1.800.4.MOON.SHINE (466.6674).