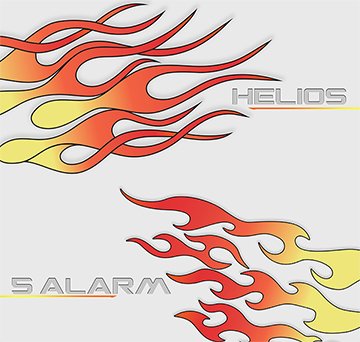 PRINCETON, FL November 4, 2014 – TWN Industries Inc., the leading water transfer printing supplier, announces the release of two highly anticipated fire-inspired patterns: "5-Alarm and Helios." The release of these patterns coincides perfectly with TWN's appearance at this year's SEMA Show in Las Vegas, and that's no mistake (Booth # 13161). It's obvious these patterns will make a splash with all WTP processors, but will be an especially hot commodity for those in the automotive aftermarket industry.
These patterns are a groundbreaking addition to the world of water transfer printing. The flames' positioning on the film is what makes these patterns so unique. Each flame has been designed in a way that one is a reflection of the other. This means each flame will be applied to a specific side of your part—either the right or left side. Another excellent feature is the fact that customers receive two different flame sizes on the same roll of film. Each roll will contain a small and large version of the flame design. This means customers will be able to decorate a much wider range of parts using the same roll of film. A few examples would include motorcycle gas tanks, ATV fenders and hoods, or even gunstocks.
5-Alarm and Helios are clearly reminiscent of the iconic orange and red flames that so many of us are accustomed to seeing on hot rods and motorcycles. Hardcore gear heads will be sure to appreciate these designs. TWN designed the two patterns to be used in conjunction with a secondary water transfer printing pattern. Experienced processors will be the most comfortable with this new design and process. Another huge benefit to this design is that it gives creative processors more control to create one-of-a-kind products. In fact, the actual steps required to work with this film are a depart from the usual WTP process. However, TWN Industries has created a video to guide processors through the altered steps. Watch the Helios & Five Alarm Video Tutorial.
Fans of these fire-inspired patterns can expect TWN Industries to release similar designs in the near future.
5-Alarm & Helios Water Transfer Printing Film
The 5-Alarm and Helios water transfer printing film patterns are available exclusively through TWN Industries, Inc. Three-meter accessory packs are available immediately. The part numbers are as follows: 5-Alarm: WTP 815 and Helios: WTP 810.
To find a TWN Certified Processor who can decorate products for you, or to purchase film, call 305-258-9622.
More Flame Water Transfer Printing Films