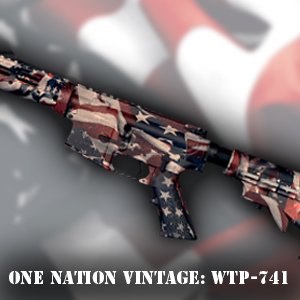 STAG ARMS, one of the world's largest AR-15 manufacturers, is now adding the American flag (One Nation Pattern) to its specialized coatings on rifles. The American flag coating is currently available on Model 3 and 3L rifles and is applied using a water transfer process known as immersion printing. It produces a very strong and durable coating to the rifle. STAG ARMS marketing manager David Larson said, "Everyone at our factory is proud of the USA and releasing this rifle right around Independence Day is the icing on the cake."
The MSRP for the Model 3 right hand version is $970.00 and the Model 3L left hand version is $995.00. The coating cannot be applied to the rifle or lower once it has left our factory. The rifles can be purchased through our network of dealers, online at our website www.stagarms.com in the individual item pages as an upgrade option, or by calling our sales office at 860-229-9994. Stag Arms is also hosting a contest to win an American flag rifle for free. Entries must be received by 5PM EST time on 7/11/14.
American Flag Water Transfer Printing Films
About STAG ARMS
Founded in May of 2003, STAG ARMS LLC is one of the leading manufacturers of AR-type rifles and rifle components in the world. What began as a sister company to a corporation with over 30 years experience manufacturing Aerospace and rifle parts, STAG ARMS has grown into a nationwide phenomenon with the introduction of their Stag 15L – the world's first true left handed rifle of its kind.