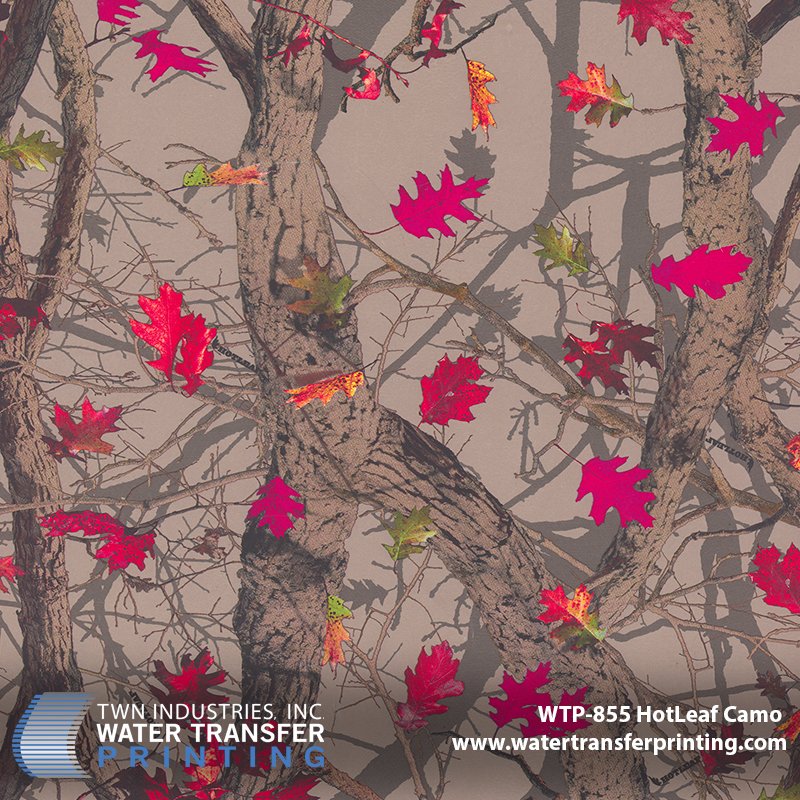 PRINCETON, FL – February 23, 2016 – TWN Industries Inc., the leading Water Transfer Printing supplier, releases HotLeaf Camo, a new female-focused camo print that's technically proven in the field based upon the latest science in animal vision. The proprietary pattern blends the traditional look of camouflage with a touch of color that's sure to attract even the most discerning style diva.
"We're excited to announce this partnership with TWN Industries because together, we are directly responding to clear market demand" – Jennifer McManus, President of HotLeaf Camo

HotLeaf's Earth-tone, photographic background is offset by an assortment of bright colored leaves to appeal to the female audience without detracting from technical credibility.  It's a brand founded by actual "huntresses" who wish to blend in while also standing out as women dedicated to the sport. A true differentiating factor for this pattern comes from its ability to subtly incorporate a hint of femininity without allowing the pink hues to consume the entire design. And with the recent and growing demand for camouflage and hunting products geared toward women, HotLeaf is sure to become a very popular pattern in the hydrographic industry.
"In a recent research study that we sponsored on women who hunt, we learned that our audience is fatigued by the overly feminine applications of baby pink color on today's available camo prints.  We learned that 'She' – our 'Huntress' – wishes to be recognized as both a woman and a formidable presence in the field from an athletic standpoint.  We learned that She does in fact like the concept of adding color to camo without detracting from performance, and that She does wish for her hunting outfits to match, from base layer and outerwear down to accessories and equipment." – Jennifer McManus, President of HotLeaf Camo
The HotLeaf Camo water transfer printing film pattern is available exclusively through TWN Industries, Inc. Three-meter accessory packs are available immediately. Place your production roll orders today. The part number for HotLeaf Camo is WTP-855. To find a TWN Certified Decorator who can decorate products for you, or to purchase film, call 305-258-9622.
HotLeaf Camo Water Transfer Printing Film
About HotLeaf Camo
HotLeaf was founded by two women proud to call themselves Huntresses and willing to point out that the market seems to be missing something for this exact consumer segment.  Today, we're innovating across a wide range of opportunities to enhance camo print design and technology, but however much we expand our line of sight, our foundation will always remain that we are a company started by women with a strong focus on women who love the sport of hunting.
Website: https://www.hotleafcamo.com