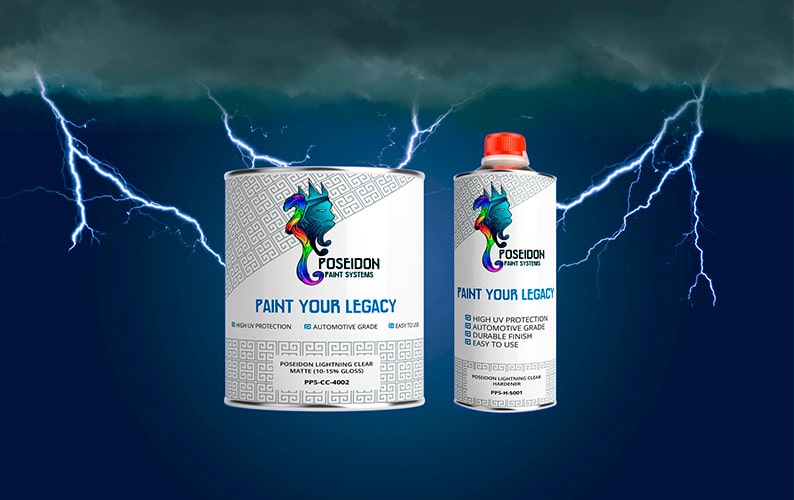 Looking for a clear coat that is easy to use, dries lightning fast, and provides industry-leading durability? Your search is over. Introducing our all-new line of Lightning Clear Coats by Poseidon Paint Systems. This new line of automotive-grade clear coats features rapid, industry-leading through-cure technology, stunning clarity, and enhanced durability.
Poseidon Lightning clear coats are engineered for easy application in most spray environments and have very fast curing characteristics. This allows for early polish and assembly. This clear coat can be wet sanded in as little as 45 minutes at 70° F and can be polished within 60 minutes.
Our Lightning Clear Coat kits include:
1 Gallon: Poseidon Lightning Clear Coat – High Gloss or Matte
1 Quart: Poseidon Lightning Clear Hardener
Try Poseidon Lightning Clear Today!
Benefits of Poseidon Lightning Clear Coats
Stunning clarity
User-friendly
Brilliant gloss
High UV protection
High scratch resistance
How to Apply
Apply 2 medium wet coats. No flash time needed between coats.
Mixing Ratio = 4:1
Available Gloss Levels
Poseidon Lightning Clear Coat Kit – High Gloss (90+ Gloss): A stunning, high gloss clear coat for automotive, marine, and aviation applications.
Poseidon Lightning Clear Coat Kit – Matte (10-15% Gloss): A durable matte clear coat for rifle stocks and other outdoor products.
Approved Applications
Poseidon Lightning Clear Coats are automotive grade and feature top-of-the-line resins. They are the perfect clear coat for the following applications:
Interior/exterior car parts
Motorcycle fairings/gas tanks
Engine covers
Rifle stocks
Wheels
Helmets
Cups
& much more
Pair with These Trending Poseidon Colors
Want to get the most out of your coating? Pair our new Lightning Cleat Coats with any of our metallics, solids, or pearls from Poseidon Paint Systems.