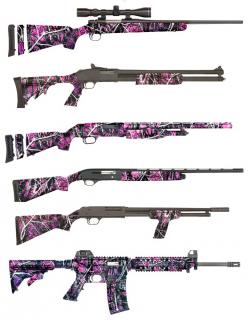 BEAVERTOWN, PA – Moon Shine, LP, designer of Moon Shine Camo, announces their partnership with O.F. Mossberg & Sons, Inc. The Muddy Girl Camouflage gun offering from Mossberg includes 7 models: ATR™ Super Bantam™ Scoped Combos in 243 Win and 7mm-08; 500® Persuader® 20 Gauge, 500 Mini™ Super Bantam 20 Gauge; SA-20™ Autoloader 20 Gauge; 500 HS410™ Home Security; and 715T™ Flat-Top Autoloading rifle in 22LR.
"Mossberg has introduced the most extensive Muddy Girl firearm lineup to date," explained Moon Shine Camo Licensing Manager, Brett Erb. "This offering has a gun to fit most hunting and recreational shooting needs of our Muddy Girl Country faithful. We are extremely pleased to partner with America's oldest family owned firearms manufacturer and look forward to a long, successful relationship with Mossberg."
Tom Taylor, Mossberg Senior Vice President of Sales & Marketing commented, "Our company is very excited to introduce a comprehensive line of products in the Moon Shine Muddy Girl camo. We feel that this creative design touches the ever growing community of new shooters as well as enthusiasts looking for something different. We expect very good things from our line of Muddy Girl Mossberg products."
Moon Shine Camo® Water Transfer Printing Films
About Moon Shine Camo®
Moon Shine, LP is a cutting edge designer of quality brand name apparel and camo that conveys the attitude and traditional values of every generation. From the hunters and farmers who live off our lands to the soldiers and patriots who protect it, join them in honoring the essence of the American Legacy. For more information, visit Moon Shine Camo® or call 1.800.4.MOON.SHINE (800-466-6674).
About O.F. Mossberg & Sons, Inc.
Founded in 1919, O.F. Mossberg & Sons, Inc. is the oldest family-owned firearms manufacturer in America, and is the largest pump-action shotgun manufacturer in the world. Leading the way with over 100 design and utility patents to its credit, and standing as the first ISO 9001 Certified long gun manufacturer, Mossberg is considered to be one of the most innovative firearms manufacturers in U.S. History. For more information on commercial, special purpose, law enforcement and military shotguns, rifles and accessories, please visit their website at www.mossberg.com.