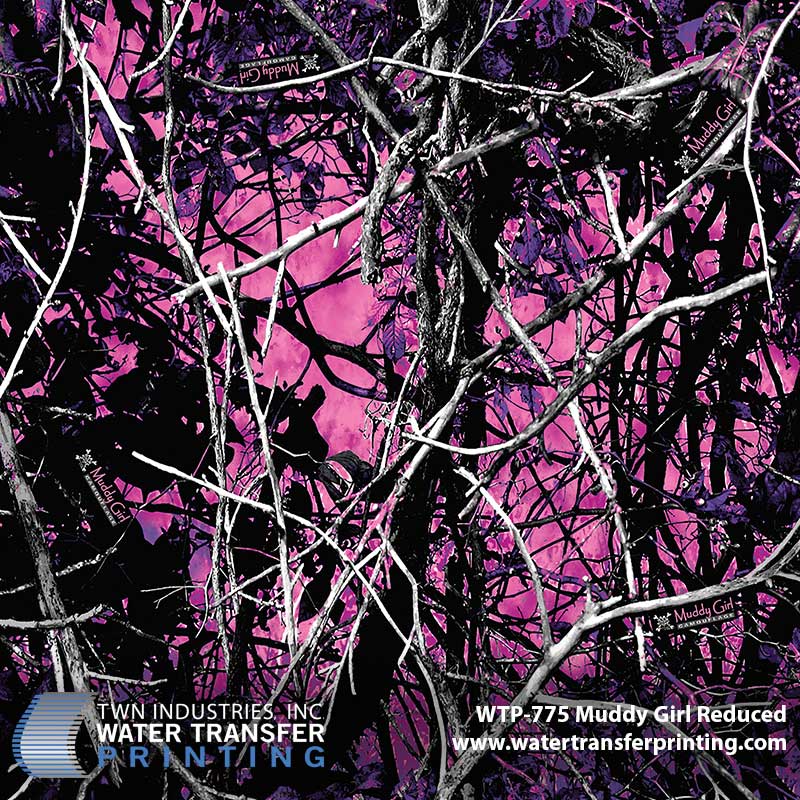 Princeton, Florida – June 10, 2014 – TWN Industries, Inc., the leading water transfer printing film developer, has once again teamed up with Moon Shine Camo™. Their latest joint venture calls for the release of a scaled-down version of the wildly popular Muddy Girl® Camouflage pattern. The new hydrographic pattern is an exact replica of its predecessor; however, the pattern's overall size is 35 percent of the original Muddy Girl® design. This reduction in size is essential, especially when processing smaller items because it ensures more of the pattern's distinctive qualities are present in your final product.

"Our customers are going to be ecstatic about the release of this pattern! Many smaller products like jewelry, cell phone covers, pistol grips, and even household items are being dipped in Muddy Girl® Camo; however, this version will now display the pattern's vivid hues with much more detail and overall clarity. This will be sure to increase the pattern's versatility, making it even more valuable in the industry," stated Brett Erb, Licensing Manager at Moon Shine Camo™.
Muddy Girl® Reduced Water Transfer Printing Film
The Muddy Girl® Reduced water transfer printing film is available exclusively through TWN Industries, Inc. Three-meter accessory packs are available immediately. Part number for Muddy Girl® Reduced is WTP 775. To find a TWN Certified Decorator who can decorate products for you, or to purchase film, call 305-258-9622.
More Moon Shine Camo® Water Transfer Printing Films
About Moon Shine Camo®
Moon Shine, LP is a cutting edge designer of quality brand name apparel and camo that conveys the attitude and traditional values of every generation. From the hunters and farmers who live off our lands to the soldiers and patriots who protect it, join them in honoring the essence of the American Legacy. For more information, visit Moon Shine Camo® or call 1.800.4.MOON.SHINE (800-466-6674).