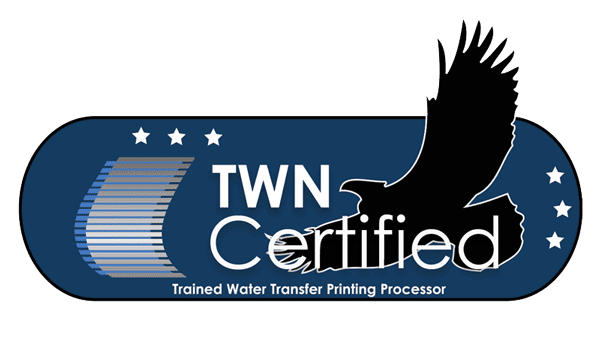 Princeton, FL. – August, 2010 – Until now, consumers had no way to distinguish between competent and incompetent water transfer printing facilities. In response to this need, TWN established a training program to certify water transfer printing processors.
The "TWN Certified" trained WTP processor program teaches industry professionals to deliver high quality water transfer printed products. The goal of the program is to ensure quality, consistency and properly decorated products of consumers and manufacturers. TWN's mission is to improve the quality of water transfer printing processors through the testing and certification of industry professionals.
At present, over 600 professionals hold TWN training certifications. They decorate in a variety of industry segments: sporting goods, marine, automotive and general industrial. Some focus on consumer goods and aftermarket items, while others are production quantity focused. Call today and ask for a referral to a "TWN Certified" and trained WTP processor in your area.