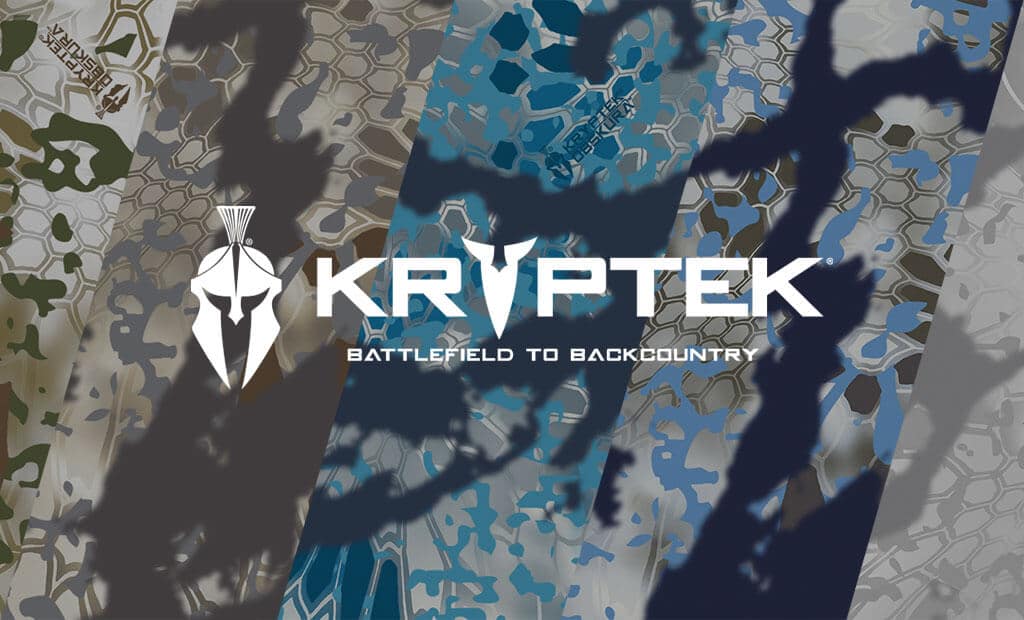 Since its inception, Kryptek Outdoor Group has brought revolutionary camouflage technology to the tactical and hunting ecosystems. Today we are excited to announce the next generation of concealment patterns from Kryptek. Introducing Kryptek Obskura, a series of camouflage patterns that were developed based on feedback from the U.S. Army camo improvement effort and other foreign militaries.
Today we bring you 5 all-new Kryptek Obskura patterns. We now have a total of 8 Kryptek Obskura patterns that feature all different colorations and applications. Check out our entire Kryptek Obskura lineup below!
Benefits of Kryptek Obskura
Dynamic break-up of the user's outline for a lower probability of detection from naked-eye acquisition.
Improved effectiveness of concealment at longer ranges with a bolder, well-defined macro pattern.
Enhanced concealment in IR (Infrared) and SWIR.
Worldwide effectiveness with multi-environment flexibility.
Striking shelf appeal with intensified uniqueness.
Extremely functional.
TWN Sale: Get 10% Off All Kryptek Films and Paints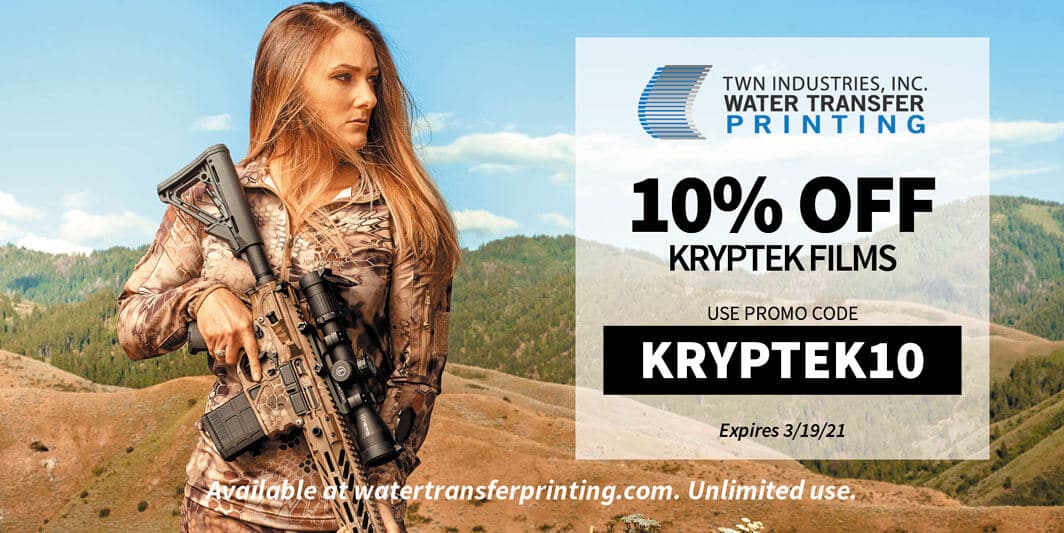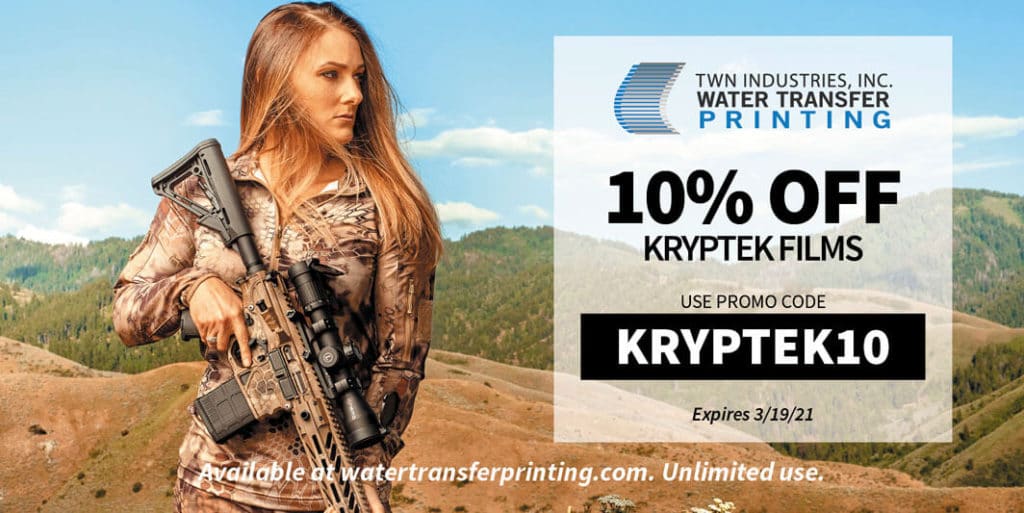 How to get this promotion:
Load up your cart with Kryptek films/paints.
Apply this coupon code at the cart page: KRYPTEK10
Checkout :)
---
Kryptek Sale: Get 10% Off Apparel at Kryptek.com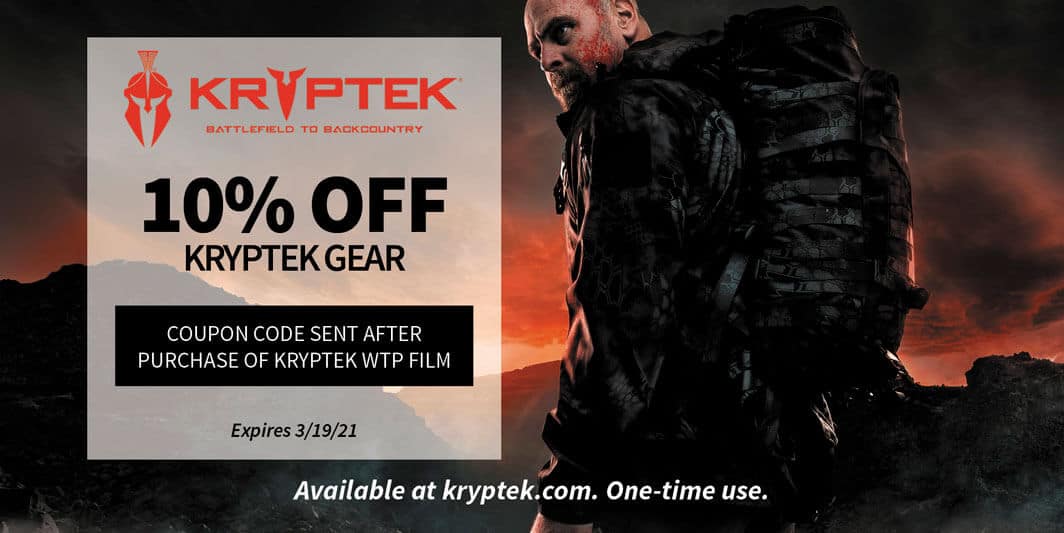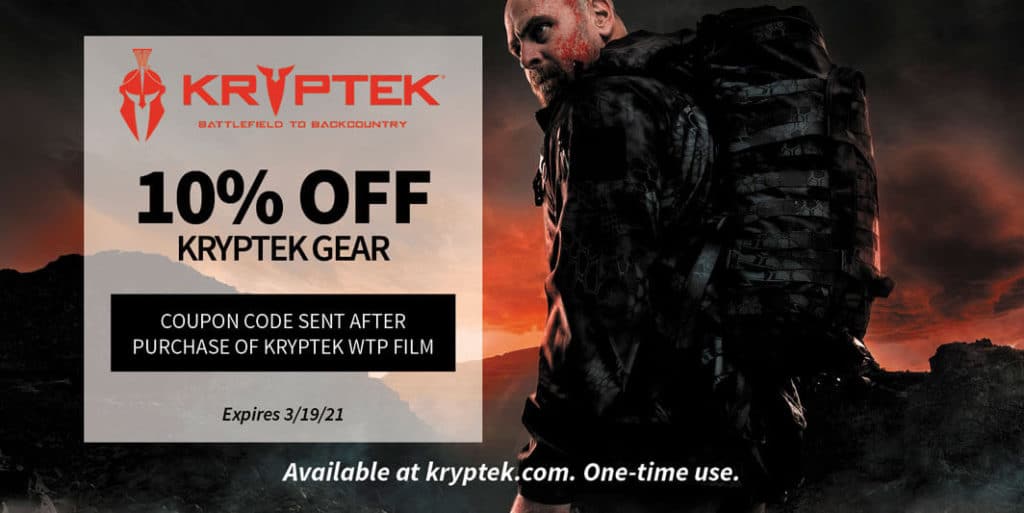 How to get this promotion:
Order any Kryptek film/paint here: https://watertransferprinting.com/product-tag/kryptek/
Checkout :)
You will receive an email from TWN with the coupon code for 10% off Kryptek gear at Kryptek.com
---
New! WTP-1026 Kryptek Obskura Grom
Kryptek Obskura Grom hydrographic film uses input from both the US and Coalition Special Operations testing programs in winter environments. Grom is the next-level of winter concealment and is specifically designed for winter theater operations where green vegetation is still visible.
New! WTP-1027 Kryptek Obskura Driftwood
Kryptek Obskura Driftwood hydrographic film is designed for the angler who enjoys casting their line out into the ocean with the waves breaking around them. Driftwood features dominant gray and brown colorations.
New! WTP-1028 Kryptek Obskura Litus
Kryptek Obskura Litus hydrographic film is designed for die-hard fishermen who have an obsession for fishing offshore in the southern regions of Florida, Texas, and the coast of Baja California. Litus has dominant dark blue, teal, and gray colorations.
New! WTP-1036 Kryptek Obskura Signa
Kryptek Obskura Signa hydro dip film is designed for the deep sea angler looking for the adrenaline rush of a hard fight out on the water. Signa features navy, sky blue, and brown colorations.
New! WTP-1037 Kryptek Obskura Nivis
Kryptek Obskura Nivis hydrographic film is designed for tactical operations in the frozen tundra. The element of surprise is crucial in this frozen wasteland. Nivis features very light gray colorations to break up your form in the deadliest of winter environments.
WTP-991 Kryptek Obskura Transitional
Kryptek Obskura Transitional hydrographic film uses prominent colorways found in transitional environments. These colors have a greater tendency to blend in with the ambient light reflected off of surrounding objects. Obskura Transitional's effectiveness in the field is proven through military studies and analysis.
WTP-993 Kryptek Obskura Universal
Kryptek Obskura Universal hydrographic film uses a grayscale colorway that allows you to customize the pattern with any base coat color. Feeling creative? Use Universal with Baby Blue, Aquamarine, Gray, or Fire Engine Red.
WTP-994 Kryptek Obskura Nox
Kryptek Obskura Nox hydrographic film was created as a result of the mass popularity of Kryptek Typhon. Nox gives law enforcement and counter-terrorist units the upper hand in the darkness of the night. Personnel can now have superior concealment and retention of IFF (Identification Friend or Foe).
Get Started With Water Transfer Printing!
Want to start your own Water Transfer Printing business? TWN is the go-to source for equipment, training, film, and supplies. We support 1000s of manufacturers and aftermarket processors with our knowledge base and superior product offerings. Contact us today to get started!