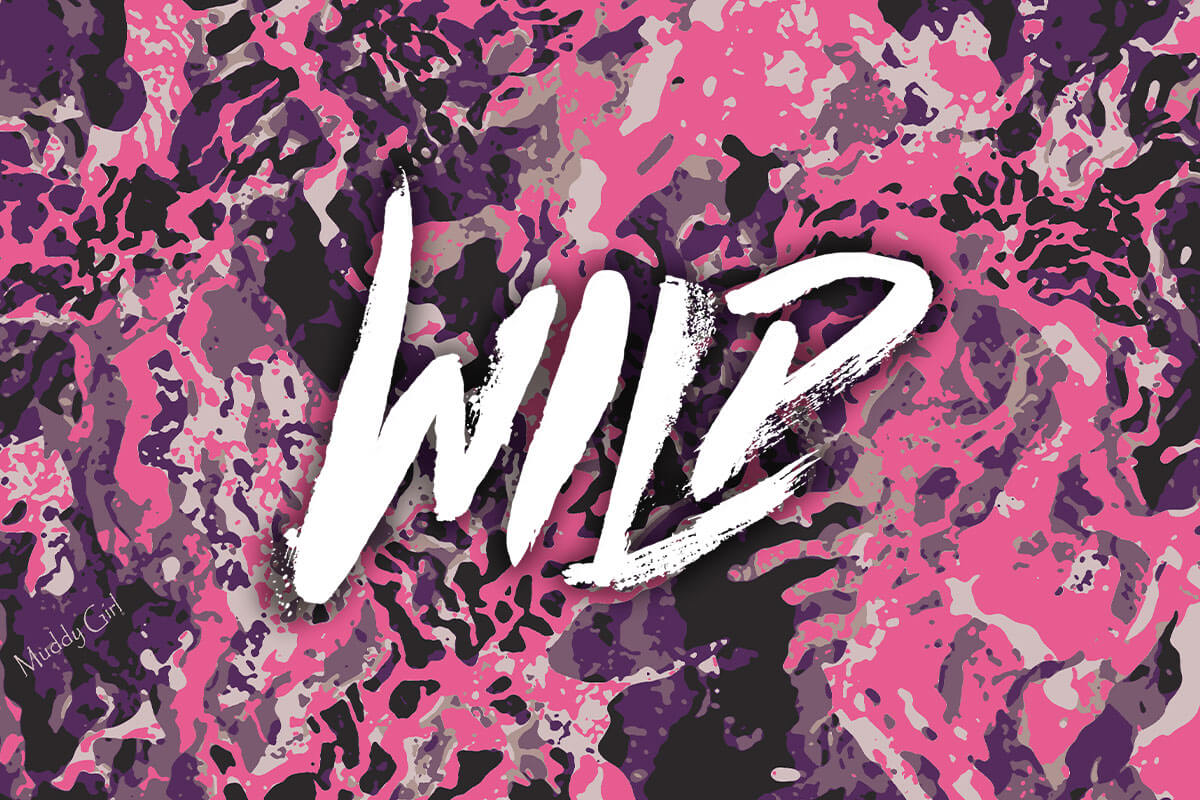 Muddy Girl just got an upgrade! Introducing Muddy Girl Wild, a new modernized version of the Muddy Girl pattern. Muddy Girl Wild is a high-energy, abstract women's camo that boasts an entirely new look while also retaining the integrity of the original Muddy Girl color palette.
"Muddy Girl" is more than just throwing on a pair of cute boots and a cowboy hat; it is a lifestyle. Our Muddy Girl Wild hydrographic film will allow women to express their passion for the outdoors and give them a fashionable camouflage pattern to customize their rifle, handgun, and tumbler.


Muddy Girl Wild – The New Look Explained
Camouflage today is all about breakup and disruption. Muddy Girl Wild features both of these characteristics despite being a pattern that is predominantly used for women's fashion. Shades of bright pink, purple, and black swirl into a modern, seamless, texturized pattern. This gives Muddy Girl Wild a tactical flare while still being fashionable and relevant for women of all ages.
This texturized disruptive camouflage design was built in partnership with Veil Camo, an innovator in mathematically derived concealment patterns.
Order Muddy Girl Wild Hydrographic Film Now!


Muddy Girl Holdings Brand Refresh
The updated Muddy Girl logo offers a stronger, bolder look. Muddy Girl was started in 2010 as a lifestyle camo that allowed women to express their love of the outdoors in between hunts. The original Muddy Girl camo pattern revolutionized the industry, and that success has allowed Muddy Girl Holdings to continue developing new and stylish designs and patterns. This brand refresh will help Muddy Girl Holdings stay on the cutting edge and continue to be the top women's camouflage in the industry.
Currently Trending Muddy Girl Hydrographic Films
What's Next for Muddy Girl?
Muddy Girl is currently ramping up and will be announcing new initiatives over the next 12-18 months. They will focus on re-connecting with their customer base and enhancing core fundamentals to elevate the brand. The newly updated logo, branding, and marketing strategy centered around the Muddy Girl Wild pattern will help propel them forward with consumers while their partnership with TWN and the launch of our Muddy Girl Wild hydrographic film will further increase sales opportunities with hard goods manufacturers.
Muddy Girl has a loyal customer base, including a following of over 1 million on social media, making them a highly sought after, and competitive women's lifestyle brand. We are excited about the launch of Muddy Girl Wild and cannot what for what the future holds for our partnership.
Get Started With Water Transfer Printing!
Want to start your own Water Transfer Printing business? TWN is the go-to source for equipment, training, film, and supplies. We support 1000s of manufacturers and aftermarket processors with our knowledge base and superior product offerings. Contact us today to get started!