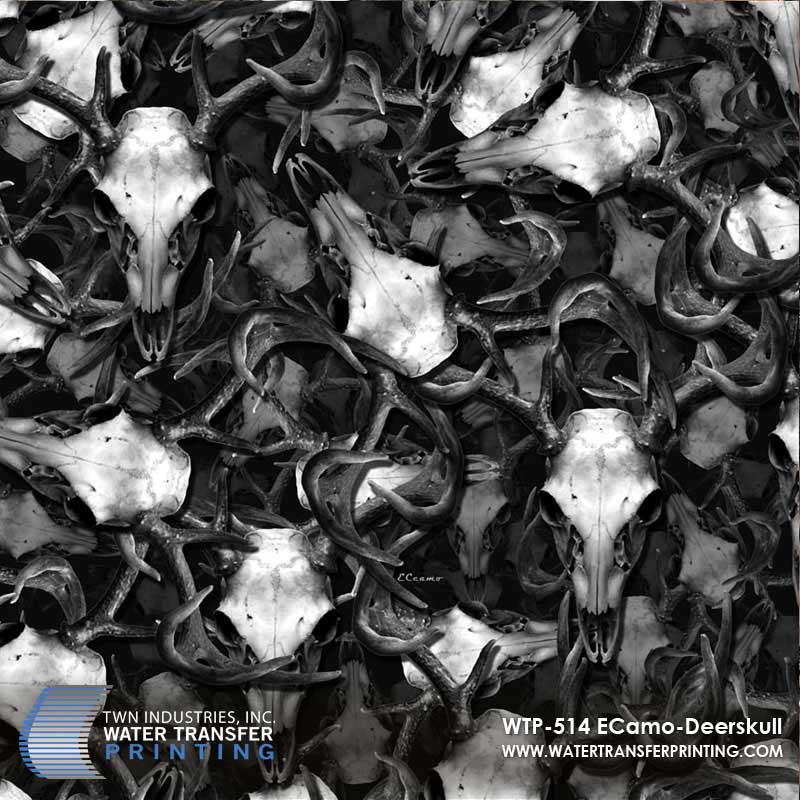 TWN Industries, Inc. is the exclusive worldwide distributor of this pattern for hard goods decorating. Film will be available to ship to all decorators beginning in early November, and will be available in all standard widths, configurations and accessory packs. TWN will stock this film in IM width.
Sept. 30, 2010 – Eagle Custom Graphics introduces their first camo pattern, ECamo. The ECamo artwork concept began in February 2010. The pattern was developed by a collaborative effort from Eagle Custom Graphics and ongoing feedback from hard core archery enthusiasts. This pattern represents the newest trend in camouflage which veers away from the traditional sticks and leaves look to incorporate an array of deer skulls arranged in an abstract pattern. While there is a prescribed base color that will give you the pattern's published halftone look, you can decorate with this film over a variety of bright and vivid base colors to obtain custom looks.
Eagle Custom Graphics, is a Water Transfer Printing decorator based in Central Missouri. Owner Shawn Nichols stated "TWN Industries has been extremely helpful while working with Eagle Custom Graphics to develop this pattern and to be sure that, when released, it will be a great pattern and quality film".
For fabric licensing opportunities contact:
Shawn Nichols-Owner
Eagle Custom Graphics
573-819-2852
Shawn@eaglecustomgraphics.com