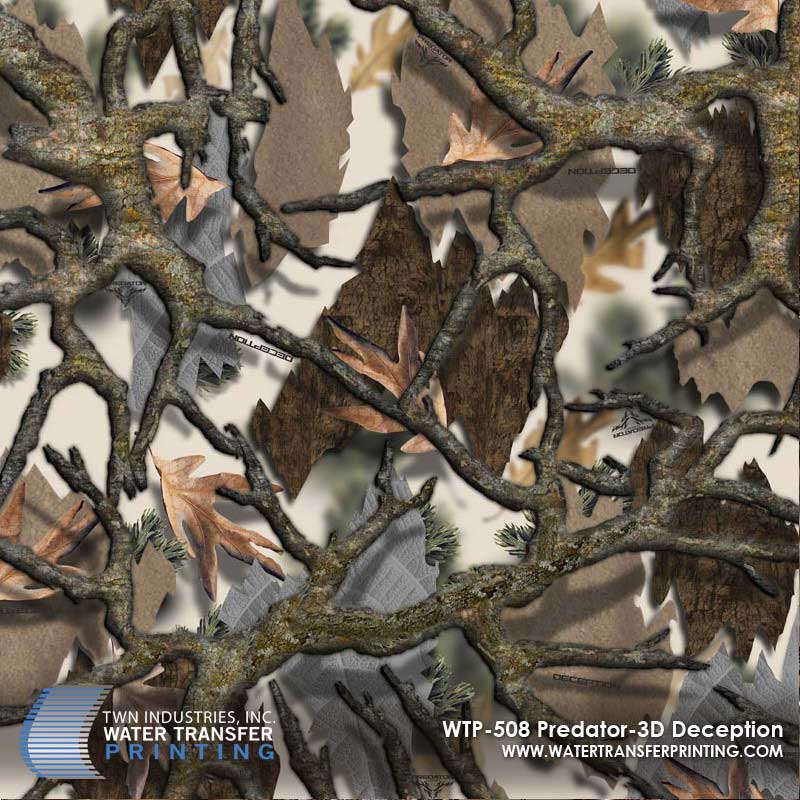 La Crosse, Wis.-Sept. 10, 2010- Predator Camouflage, Inc. announces the upcoming introduction of 3-D Deception, a 3-dimensional pattern that will be on the market early 2011 in their Brown Deception line of open patterned camouflage clothing and accessories.
"The 3-D Deception takes the original branch and blotch pattern and gives it texture and detail to enhance the look and make it even more realistic," said Frank Hood, president of Predator Camouflage. "The development of 3-D Deception takes our open pattern technology to the next generation, using different focus points, it gives the affect of a three dimensional in-depth look."
Predator is the pioneer in open pattern technology, a silhouette-breaking pattern that brothers Frank and Wayne Hood purchased in 1991. Brown Deception is one of Predator's most popular patterns among both recreational and professional hunters. Its earth tone colors blend well in different terrains, from the northern woodlands to the southern brush country.
"Pants, camp shirts, long sleeve T-shirts, fleece vests, jackets, face masks, and fanny packs are just some of the clothing and accessories available within the Brown Deception line, and soon, in 3-D Deception," said Hood. Fabric selections include fade resistant cotton, 3M's Thinsulate® and Predator's exclusive Warp Knit®, to name a few.
3D Deception marks the seventh pattern for Predator. The company, based in La Crosse, Wis. sells its products through major retail stores, including Cabela's, Wholesale Sports, and Sportsman's Warehouse Stores. Their products are also available through a dealer network in North America, in addition to their catalog and online store.
The Predator Deception water transfer printing film pattern is available exclusively through TWN Industries, Inc. Three-meter accessory packs and production quantity films are available immediately.
Predator Camo 3D Deception Hydrographic Film
More Predator Camo Water Transfer Printing Films
To place an order online or to find a dealer, visit their Web site at
predatorcamo.com
or call 1-800-430-3305. Join their conversations on Facebook at Predator Camo.
Contact: Frank Hood, President
Predator Camouflage
1.800.430-3305
frank@predatorcamo.com