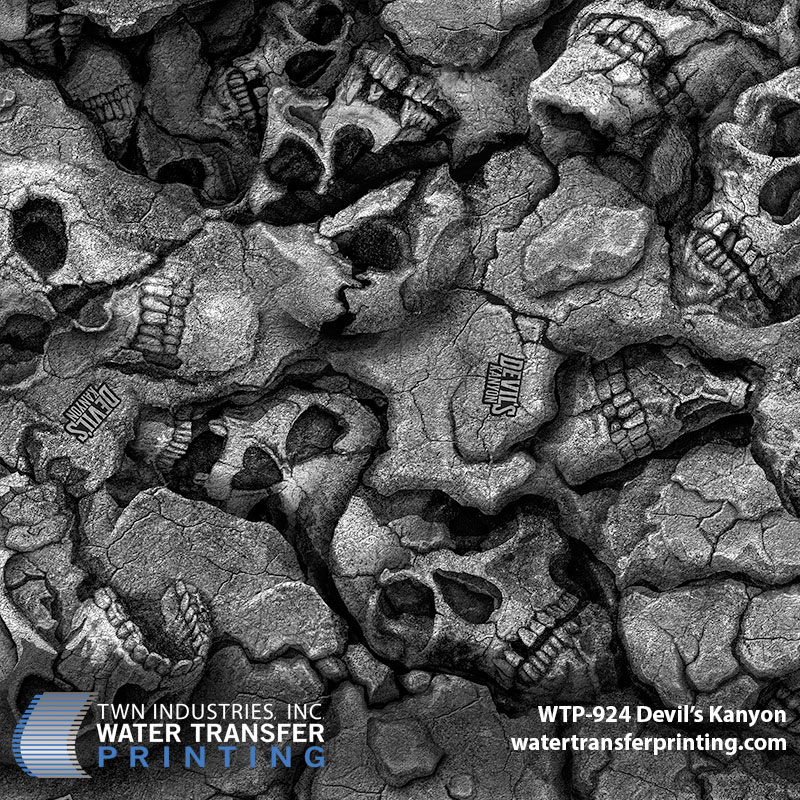 Boneyard Camo™ is not your ordinary camoufl­age company. Along with a full lineup of concealment patterns that utilize "Confusion Technology" to disguise a hunter's outline, they are also paving the way with their innovative Designer Series. Boneyard's Designer Series is comprised of many unique patterns and is home to their Legends™ Camo, a vastly popular deer skull, and antler camou­flage. Devil's Kanyon™ takes their Designer Series to new heights with a cleverly detailed skull hydrographic film.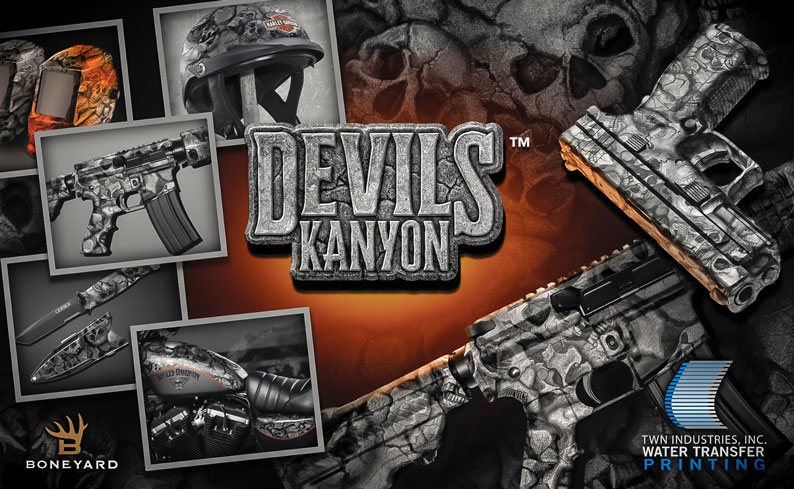 Devils Kanyon™ is the first Boneyard pattern to reach outside the realm of the hunting market to provide a more mainstream approach. Devil's Kanyon is just that…a prehistoric, skull-filled canyon consisting of the remnants of evil souls, destined for the depths of the underworld.
Devils Kanyon – Standard & Reduced Sizes Available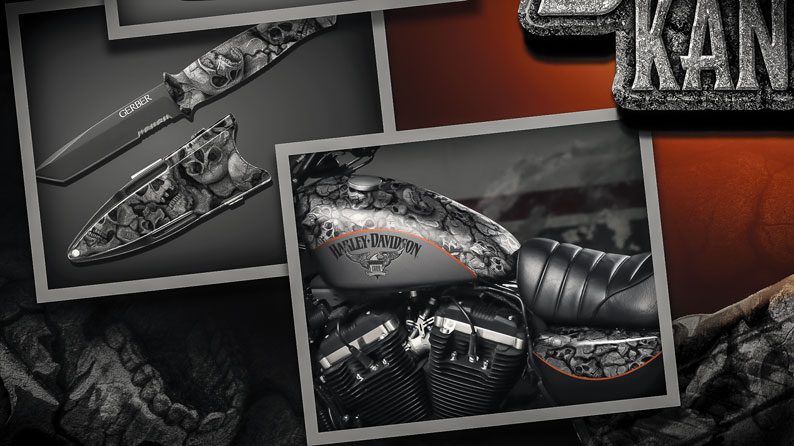 The selective transparency in this skull hydrographic film allows you to create one-of-a-kind, wicked designs by customizing base coat colors and experimenting with gradients. Additionally, superb, detail and an EXTRA-LARGE repeat, make Devils Kanyon™ one of the best skull hydro dipping films to ever hit the market.
Devil's Kanyon – A Premium Skull Hydrographic Film
A pattern like this beckons to be used on a vast array of products, both large and small. Therefore, we have developed Devil's Kanyon in two sizes: Standard & Reduced. Devil's Kanyon is designed for larger items like rifles, shotguns, motorcycles, and automotive dashboards. On the other hand, Devil's Kanyon-Reduced provides enhanced texture and detail on smaller items like handguns, knives, and more!
Behind the Design – Creating Devil's Kanyon™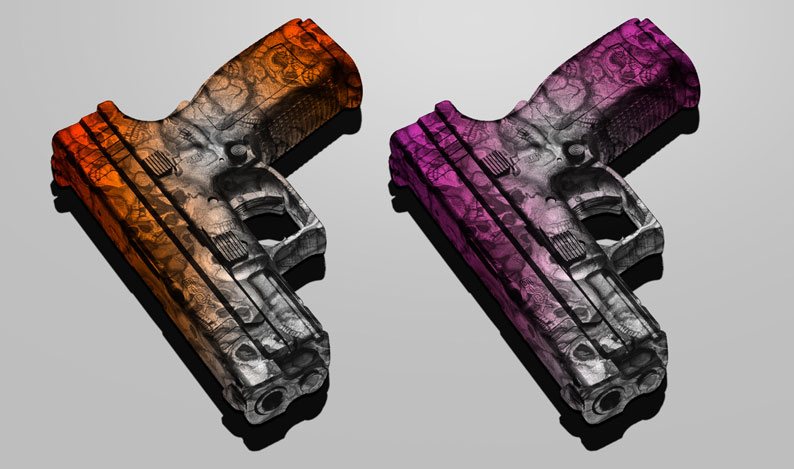 Boneyard is no stranger to creating exquisite designs that in some cases take many months to complete. Devil's Kanyon is another Photoshop marvel. The process all started with just the right rock texture…not too light, not too dark, and plenty of suggestions of nooks and crannies. This formed the base of the design that would eventually take form and become Devil's Kanyon. The rest of the process was just old school creativity, using only a few Photoshop tools like the lasso, dodge, and burn tools.
Boneyard created this skull hydrographic film to accommodate an extremely diverse range of products from automotive parts, to knives, helmets, firearms, sunglasses, Stainless Steel Tumblers and even hunting products.
Today, this category of "Camo for Life" has taken hold and really captured the spirit of the hunting community. At Boneyard, we like to call it Designer Camouflage because of the level of creativity we put into each design.

Scott Boerner
President, Boneyard Designs, LLC
The Boneyard Camo Brand
Boneyard began their journey back in 2009 with the creation of their NonTypical™ pattern, quite possibly the first antler camo ever created. By early 2010, the pattern made it into the hydrographics world and quickly became a new topic of conversation. Because of the antler shapes, and the inherent risks associated with having antlers on your hunting clothing, the pattern was marketed as a Designer Camouflage™. At that moment, a new camo revolution and style was born.
It didn't take long for the industry to latch on to this new concept of camoufl­age and new patterns started appearing everywhere. Eventually, in 2012, Boneyard created a series of antler patterns called Legends™ that would go on to become arguably the most popular Designer Camo™ patterns ever created. Mostly because of a partnership with a top casual clothing brand in the hunting industry, Legendary Whitetails®. Over the next several years, the Legends patterns made it onto products that could be found in hundreds of thousands of homes across the country. Other top manufacturers, like Weatherby, DPMS, Carbon Express, and PSE Archery took notice and capitalized on this new and exciting series of patterns.
Boneyard Camo continues to be a creative powerhouse and strives to create unique and exquisite patterns for hunting and everyday activities. For more information about the Boneyard family of patterns, please visit https://boneyardgear.com/.