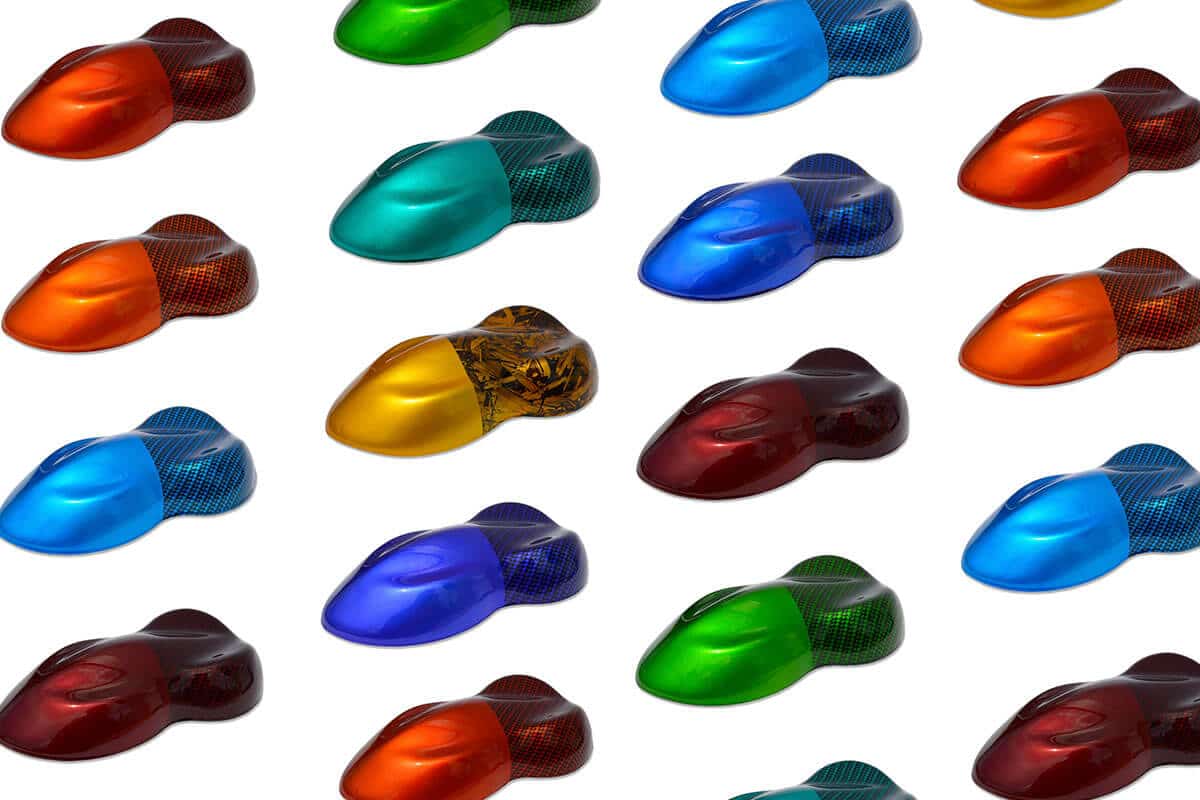 Want to step up your paint game? Look no further than our all-new candy intercoats. These high-quality automotive candy paints add deeper, more dynamic colors to your projects. You can use candy paints to create one-of-a-kind custom paint jobs.
For example, apply our candy intercoats over popular carbon fiber Water Transfer Printing films like WTP-155 Black Carbon Fiber Weave and WTP-1017 Forged Carbon Fiber to create more compelling carbon fiber coatings.
What Are Candy Intercoats?
Our intercoat clear is a transparent urethane midcoat that is applied on top of a base coat layer (typically silver metallic) and underneath an automotive-grade clear coat. Intercoat clears are generally used as a transparent medium to add metallic flake, candy colors, or color shifts to coating.
Our Poseidon candy intercoats are made with automotive-grade dyes and a high-quality intercoat. The colors are pre-mixed and ready to spray. Simply stir before use and drop them in your spray gun. After you finish spraying, pour any remaining material back in the can for later use.
Popular Candies
How Do You Use Candy Intercoats?
Our Poseidon candy intercoats are designed to be applied over your dip. When you do this, you create more depth between the base coat, film pattern (it's actually only inks – the film is washed off), and candy layer.
Products Needed for Candy Intercoat Application
Application Steps
Prep your item – scuff and clean the part as necessary.
Spray epoxy primer – this will improve adhesion between the substrate and the base coat.
Spray silver metallic – silver metallic is the recommended base coat for our candy paints because it brightens up the coating and provides metallic effects.
Dip your item – WTP-1017 Forged Carbon, WTP-155 Black Carbon Fiber Weave, WTP-378 Black Carbon Fiber, and WTP-940 Sport Carbon are all great carbon fiber films to use with our candy paints.
Spray candy intercoat – apply 2-3 light coats in one session until you achieve the desired coverage.
Spray clear coat – apply one of our automotive-grade clear coats to protect the coating.
Candy Intercoats vs Candy Base Coat Paints
So what's the difference between our candy intercoats and candy basecoats? Simple – apply our candy intercoats ON TOP of the dip and apply our candy basecoats UNDER the dip. If you have any questions about using these new products, give us a call at 305-258-9622.