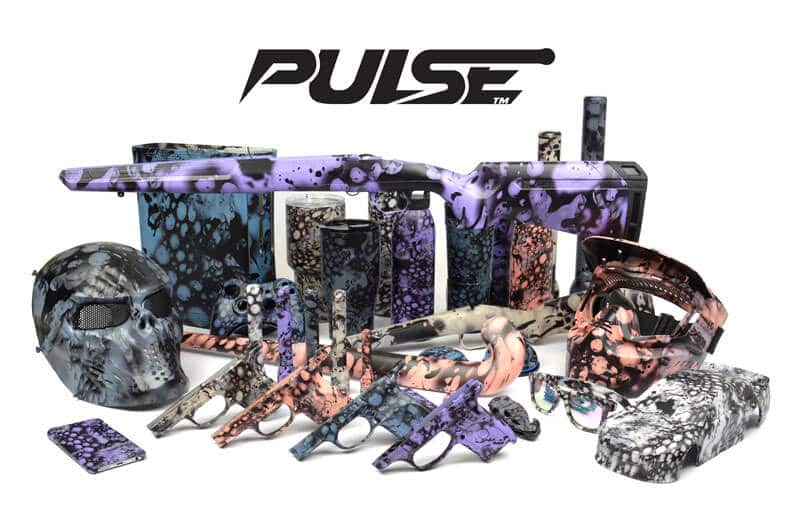 Did you hear? Moon Shine Camo is now Sirphis. To celebrate the launch of its restructuring, Sirphis has created a brand dedicated to the innovation of trendsetting patterns. Introducing Pulse, an abstract pattern that mimics the hide of an alligator. Adaptability has played a key role in the survival of the alligator. Sirphis chose this king of the swamp as its company logo and also was influenced by its hide in the development of the Pulse brand. Give your projects a pulse with this all-new groundbreaking design today!
Attending SHOT Show 2019 in Vegas? Stop by and visit Sirphis at booth #10672 to see all of their gear dipped in Sirphis Pulse.
Check Out the Official Video of Sirphis Pulse
Pulse: An Inside Look
Pulse is a brand that develops visually appealing, multipurpose patterns. Macro and microelements were added to create a fresh new look. Many natural surfaces can be seen within the bold design and its endless colorations. By monitoring trends and creating unique patterns, Pulse will continually introduce designs in colorways that appeal to the mass markets. Pulse – Come Alive™
One Pattern. 6 Colorations. Unlimited Possibilities.
Pulse exhibits incredible design adaptability. A change in base color can mimic a range of surfaces, such as snow (Blizzard), dirt (Apocalyptic), water (Riptide), reef (Coral), etc. We developed 6 unique colorations that are built to compliment Sirphis apparel. However, you can use any color underneath Pulse, including our metallics and pearls by Poseidon Paint Systems.
2 Scales for Maximum Flexibility
Two scales give you unmatched flexibility when decorating a wide array of items. Dipping larger items like cooler lids and helmets? Sirphis Pulse is your go-to pattern. Dipping a compound bow or handgun? Sirphis Pulse Reduced has a minified scale that will render more detail on complex risers and handguns.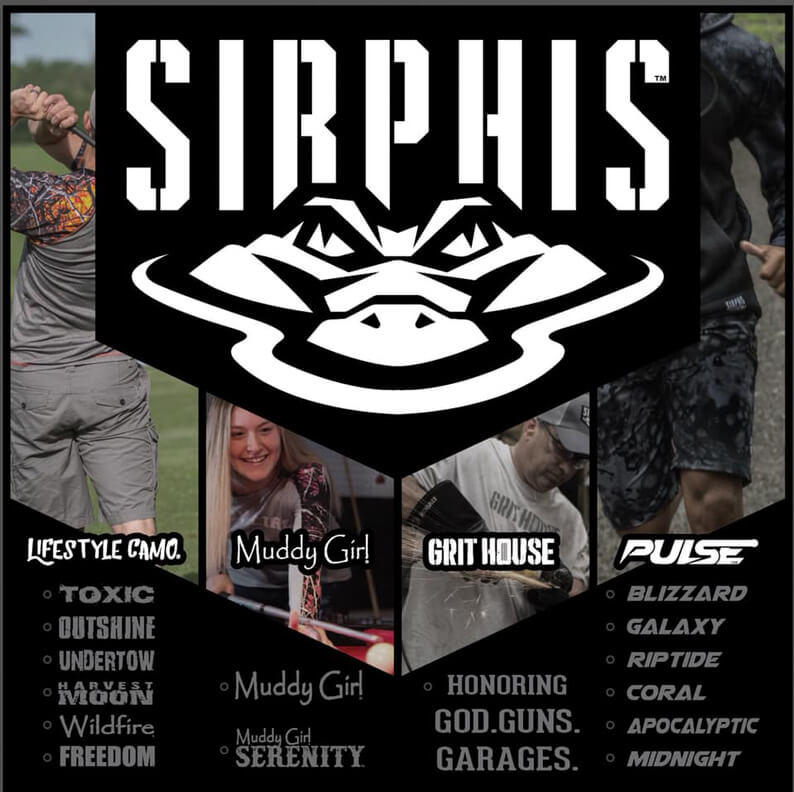 About Sirphis
Everything has and can be identified by its surface. Specializing in the design and application of surfaces, it was only appropriate for our company to be named Sirphis. As a cutting-edge designer of quality brand name apparel and patterns, including Lifestyle Camo, Muddy Girl, Pulse and Grit House, our company mission is simple: "to develop patterns that have mass visual appeal, increasing the public demand for any product branded by its Sirphis".
For more information, visit www.sirphis.com or call 1-800-466-6674.